The Ultimate Guide To Finding Winning Dropshipping Products on Aliexpress In 2020
Dropshipping from AliExpress has generated billions of dollars in revenue for sellers across the globe, for that reason selling on AliExpress is so lucrative. AliExpress is one of the most popular places to find products to sell online. This is what prompted us to create the ultimate aliexpress best sellers list. It's easy to see why, AliExpress has one of the biggest product selections, safe payments and a buyer friendly return & refund policy.
In this article, we're going to explore exactly how to find the best dropshipping products to sell on AliExpress, how to find proven, trusted suppliers and how to easily find reviews & marketing materials to help you sell your product. But first, let's take a look at why you should buy your dropshipping products from AliExpress:
Why AliExpress Is The Best Website To Find & Buy Dropshipping Products
AliExpress has many benefits for beginner and intermediate sellers and it really is much more suitable for scaling and testing than smaller dropshipping providers or directories.
AliExpress is a platform that has really stood the test of time, and in recent years has become even easier to dropship from - with more and more sellers and Alibaba suppliers providing services and products that meet the needs of dropshippers (fast shipping, USA shipping, free returns and refunds, product videos and a best sellers section).
Large community support - software & resources
AliExpress is one of the most popular ecommerce websites on the Internet, and therefore has huge software support and many available resources to learn from. There is an abundance of blogs, guides, courses and videos on how to use AliExpress & related software efficiently.
Thanks to this, finding information or software that can meet your dropshipping needs is easy - but only if you are sourcing your products from AliExpress.
Ecommerce platforms like SaleSource, Shopify, Oberlo, Dropified, Importified and AliDropship all have deep support and integrations with AliExpress, which can really help sellers import products and fulfill orders with the click of a button.
Later in this article, we will see how the SaleSource Chrome Extension makes finding Shopify dropshipping products on AliExpress really easy.
Enormous Product Selection
You might be thinking about how to find winning products on AliExpress. The website has over 100 million products listed and thousands of new products are added every day. AliExpress is the go-to place for Chinese sellers and Alibaba suppliers to display their goods to the global audience - you'll be hard pressed to find other websites with such a large and varied dropshipping product selection, clothes to electronics and everything in between.
AliExpress is home to over 10,000 specific product categories ranging from consumer electronics to baby toys. It is almost guaranteed that you will find a best selling product that will really fit your target interest group on AliExpress.
If you already know some good sellers on AliExpress it's a good idea to use this information to your advantage. AliExpress search by seller is yet another useful tactic that can be implemented to find winning products to sell.

To contrast this, dropshipping directories from manufacturers typically only sell best selling products in a narrow market, with limits on markups and other rules to follow - perhaps even legal agreements to sign, really making these sellers less than ideal.
It is unfortunately also possible for Alibaba suppliers to discontinue a specific product even if you are still receiving orders on your store, a problem you do not have to worry about on AliExpress - there can be many suppliers selling the same product, all competing to give you the best price.
No Transaction Fees or Extra Costs
AliExpress official store is completely free to browse and it is also completely free to import best selling products into your store from AliExpress. Payment is only needed when you wish to purchase a product. There are no transaction fees paid by the buyer, and AliExpress has an extensive rewards & cashback program, as well as a great affiliate program to help you save even more money when sourcing your best selling products & scaling your store.
In contrast to this, not only do dropshipping directories charge a fee - usually monthly, but they may also charge extra transaction fees on top of the product price. In addition to this, unlike AliExpress official store, dropshipping directories and suppliers reserve the rights to charge you any other fees they wish - for example, a fee to return a defective product or a fee for fulfilling more of your orders than expected.
When dropshipping from AliExpress, the suppliers are only really guaranteed to receive the price you paid for the best selling product. They cannot ask for more money, and must fulfill your order fully (where the order is marked as delivered on the tracking platform) before they receive funds from your purchase. Similarly, Returns & refunds on AliExpress have to be dealt with by your supplier properly, or they risk having their feedback score really lowered.
AliExpress official store wants to be transparent with buyers on their platform, and so they provide detailed statistics and metrics on each supplier - for example, the number of years the supplier has been in business, the suppliers feedback score (from reviews & ratings), in order to help buyers make an informed decision of which supplier to buy from.
No Legal Requirements
Many large manufacturers or dropshipping distributors prefer to have legal contracts with the companies that they work with. This means that you'll have to be a registered business entity in your country. Some of these companies even refuse to work with businesses in countries outside the USA / UK.
Whereas on AliExpress, there are absolutely no legal requirements or obligations when working with a supplier. You can work with as many suppliers as you really want - there are no minimum order quantities, no maximum product markups and no maximum or minimum sales per day. This a major reason for why so many new Chinese sellers are drawn to AliExpress.
Sell Globally
Most AliExpress suppliers have shipping options that can reach almost every country in the world. As well as having specialised USA warehouses and USA shipping available for those who need it, AliExpress has ePacket, which offers 7-20 day shipping to over 55 countries and territories.
In addition this, suppliers usually offer various shipping options that result in 20-40 day free shipping to almost any country around the globe. This allows your dropshipping business to sell internationally without complicated shipping agreements and high price. With AliExpress official store, it is possible to compare suppliers by shipping options and price and choose the supplier that offers the best deal for you.
In contrast to this, dropshipping directories may not offer international shipping - especially those based outside of China. You may also have to pay shipping per product, in contrast to AliExpresses free shipping options.
Finding Winning Products on AliExpress
Using The Search Properly
Aliexpress product search
There are two main ways to find products to sell on AliExpress - the first option is to browse through the home page and categories (in order to find aliexpress best sellers) and the second option is to use the product search feature with the keyword that you're looking for.
Since using a keyword or search term is more precise, we will examine how to use this method effectively to find great products on AliExpress.
One of the best ways to make sure you instantly see best selling products that are likely to sell is to sort by "Orders" instead of by Best Match. This allows us to see the top selling products first, which as you might imagine, is very useful when trying to find best selling products that are going to sell really well on your store.
In addition to this, we will also tick Free Shipping and ratings 4 Stars and up, which will enable us to see top rated suppliers only and exclude any bad products and suppliers, which could potentially hurt our Shopify dropshipping business.
Analyzing Pages To Find Winners
An AliExpress best selling product page can really have a lot of data on it, which tends to be very confusing for beginner dropshippers and AliExpress veterans alike. When you use the SaleSource Chrome Extension, you can see a summary of all of that data condensed into the key important aspects needed for you to make a purchase decision.
On the best selling product details section, the main product data we'll be taking into consideration is:
Best Selling Product Price
Is ePacket / USA shipping available?
Dropshipping Product Reviews (Text & Images)
Dropshihpping Product Rating and Review
Number of times added to wishlist
Looking at the above example, we can see that despite the relatively high price of the product, it is selling really well. In addition to this, there are a large amount of reviews and the average rating is above 4.5 Stars, which is what we want to see when picking best sellers.
Even more encouraging is the 4800 product adds to wishlist, which indicates that a high product wishlist:purchase ratio. The only downside here is the overall price of the product & lack of ePacket shipping, which as of lately became the norm on AliExpress.
Checking Supplier Details & Reliability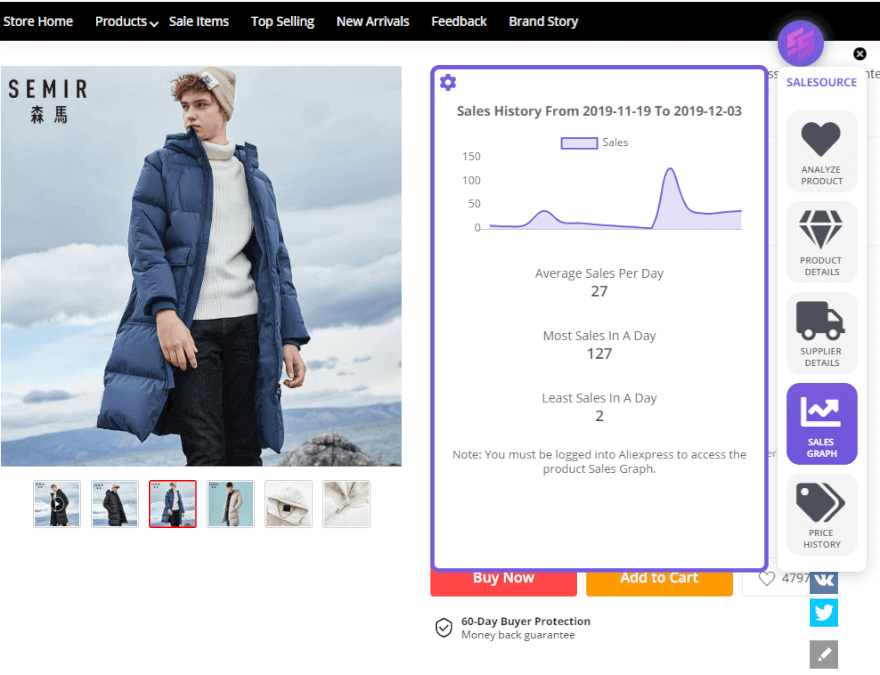 By clicking on the "Supplier Details" tab on the SaleSource Chrome Extension we can see a compiled account of all of the important official information about the supplier of the product.
The supplier has a 99% positive feedback score, which is really excellent. In addition, the product supplier has been in business for at least 1 year, which could ideally be longer, but is passable since the supplier has such a high feedback score.
We can also see the Best Selling and Trending products of this supplier - this section can be great to find extra products to list on your store related to the current best selling product you are considering.
Looking At The Sales Graph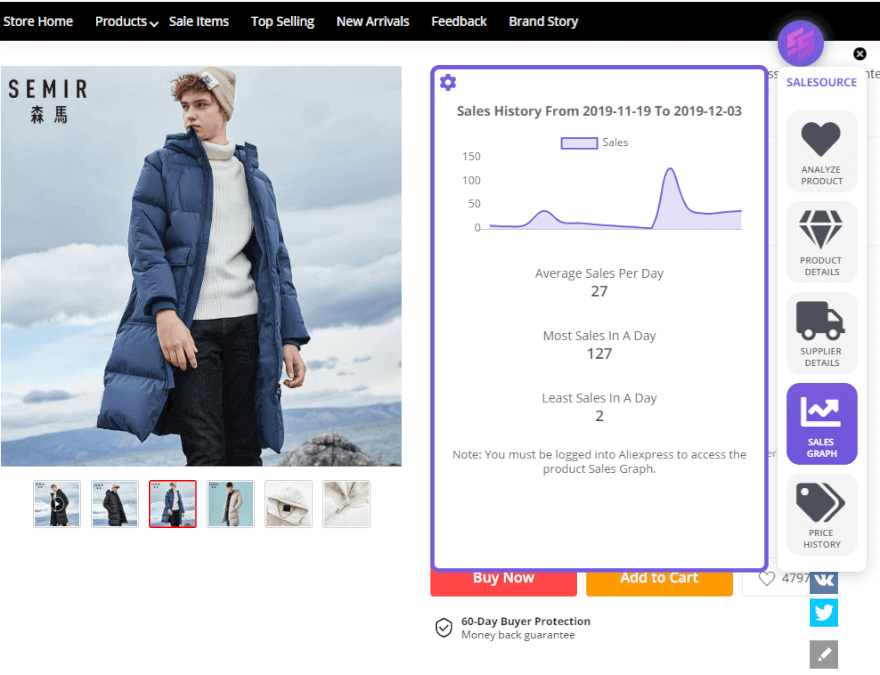 In order to check whether a product has been selling really well recently, we can check the sales graph to see a daily product sales breakdown, in this case the breakdown covers the last 1000 orders of the product - almost the best selling products entire sales lifespan.
From this product sales graph we can see a huge boost after Black Friday, where the coat sold 127 units in a single day . Due to the continued sales success after Black Friday, we can surmise that this is indeed a potential best seller and is worth listing on our Mens Fashion store.
Pricing History
By taking a look at the best selling product price history, we can determine whether or not we are buying at a high price. For this product, we would not encourage purchasing from this supplier, as they've really increased their price from $13.12 to $19.02.
We can use SaleSource's product analysis feature to find another supplier selling the exact same product for a cheaper price.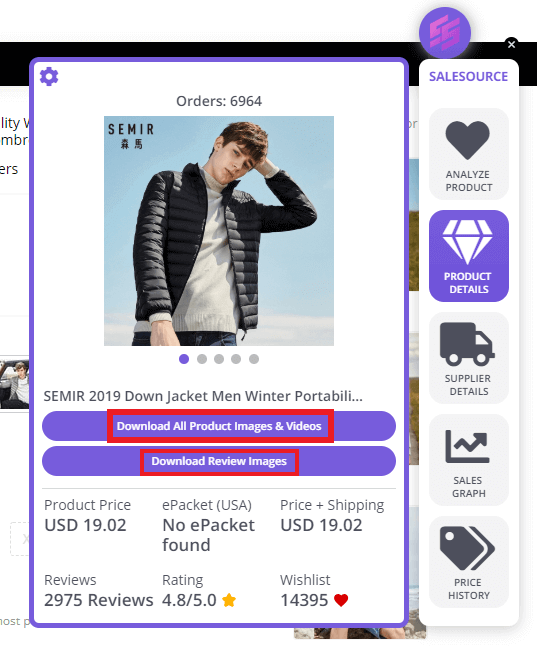 Now we have reduced our product buying price by almost half, simply by searching for another supplier using SaleSource - having found the best selling product for being sold for $9.82 instead of $19.02 from another supplier.
Searching for a better deal can really have a profound impact on your store profit margins, and we highly encourage doing so whenever possible.
Checking The Reviews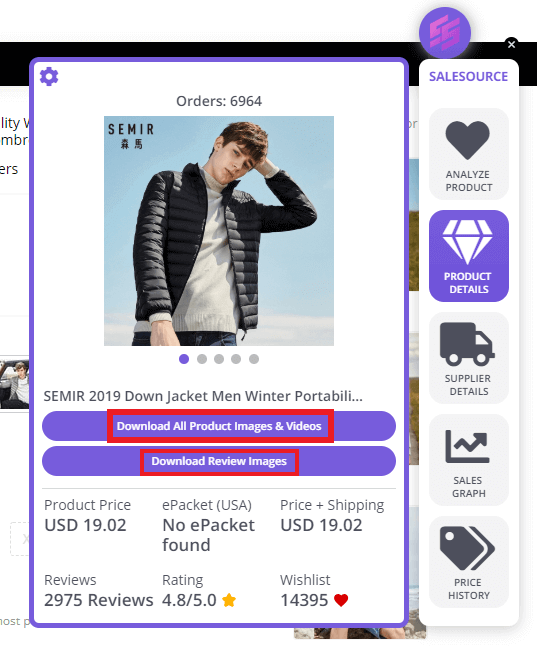 In order to inspect the quality of the product, it's good to have a look at the review photos. Unfortunately, AliExpress official store does not offer a way to download all of the full resolution product images, but you can use the SaleSource Chrome Extension to do just this.
We recommend you go through as many full resolution product review images as you can to determine the quality and style of the product is as advertised.
In addition to this, you can also download all the product videos & images associated with the AliExpress official store listing, so you can edit together a best selling product video for marketing purposes.
The best selling product video will also give you a good idea of what the product really looks like and its features, which can be really instrumental in making the decision of whether or not you should list this product on your store.
Alternative Product Research Methods
Apart from AliExpress and Alibaba, you can also source products on other official ecommerce platforms that don't expressly prohibit dropshipping, such as eBay, Amazon, Chinabrands, etc.
The method remains the same - you source product on an official ecommerce marketplace and then list it in your Shopify store for a mark-up. However, there are a few things that you need to pay attention to before you start selling at these platforms.
Whilst dropshipping on eBay and Amazon is allowed, it is however, somewhat restricted. Under eBay and Amazon policies, you need to guarantee to your customers that safe product delivery within the advertised timeframe will take place.
Another thing worth noting, is that both eBay and Amazon only allow you to dropship using wholesale suppliers, which removes a lot of the risks that a traditional dropshipping business model alleviates so conveniently.
For that reason, unless you're an advanced dropshipper, this option might not be for you.
Amazon vs eBay dropshipping
Before the rise of AliExpress and Alibaba, dropshipping from eBay and Amazon was by far the most popular form of dropshipping. In fact, there was even specifically designed arbitrage software serving this very purpose.
That wasn't meant to last, as pretty soon eBay buyers realised that they were being overcharged on their purchases, when their order would arrive, they'd get products wrapped in Amazon packaging.
Naturally, this would hurt eBay reputation, so they had to shut that down and tighten their dropshipping policy. So, if you're thinking of starting a dropshipping business with either of these official marketplaces - beware!
Top 35 All Time Best Sellers
1. Magnetic USB Cable
This is one of the coolest ali express best sellers on this list. It is very clear the important role that smartphones play in modern person's every day life and AliExpress recognises that. It's one of the best products you can sell online and one of the most lucrative niches. No more fiddling and fumbling around – the days of you not being able to plug your phone in are over! This crafty little product will allow you to start charging your device in a matter of seconds!
2. Glass Screen Protector
Last month this best selling product became one of the most sold on AliExpress. Strictly speaking, it's not easy to find suppliers for these AliExpress top selling products. Nowadays smartphones are very expensive and one of the most important (and expensive) parts of a smartphone is the screen. Having a scratch on your phone screen is like an itch in your brain that you can't scratch. Do not let that happen! It's also worth mentioning that when it comes to shipping, this is one of the best niches you can go into (you can expect the shipping to take 5-7 days).
3. Fitness Bracelet
This is one of our favourite best sellers. Healthy body is a home to a healthy mind. Statistically, 1/5 adults in the US is overweight. That's why there is a huge demand for this product and this niche in general. This would be a good product to sell and easy to market – worth a try!
4. Manicure Gel Polish
It's official - if you have an ecommerce store that sells women products, then you have to include the manicure gel polish, these sell like hot cakes on AliExpress numbers don't lie! It's an elegant looking product at an affordable price.
5. Car iPhone Holder
This category of best selling products isa fairly popular. Car phone holder is an essential product for any driver, making this product one of the easiest best sellers. The fact that an average household in America has 2-3 cars seems to indicate that there is demand great demand for this product. Made of high-quality materials, this particular phone holder is strong and durable. Some of the best aliexpress products are the ones that are lightweight and easy to ship, so the iPhone holder is definetly worth the shot.

6. Touchscreen Winter Gloves
Clothes is a great best selling product category when it comes to dropshipping. This is one of the most popular products on AliExpress. Nothing is more cozy than these touchscreen winter gloves, which prevent your palms from slipping whilst you're texting, plus they're touchscreen – what more can you ask for?
7. Apple Watch Stainless Steel Loop Bracelet
Apple is on the rise and now more than ever people are buying Apple products on AliExpress and dropshipping them, making it an ideal ali express best seller. What often happens is people spend a lot of money on an expensive iWatch, to only later find out that the band holding the whole thing together is designed poorly. That's where you come in with this classy hardware.
8. Wireless Earphones
The best thing about these earphones is value for money. There is a huge demand for electronics, that's why this is a popular product choice when it comes to dropshipping. You will not be able to find this high quality of an earphone for such a price. A good idea would be to sell this product for a mark-up. Even with a 2x mark-up, these earphone are still cheaper than buying the identical copy on Amazon!
9. Resistance Rubber Bands
This best selling product is popular with many Shopify sellers. Have you even been in a situation where you wake up, but feel more tired than when you went to sleep? If the answer is yes, this is because your body is too rigid. Using the stretching bands can help alleviate this. Gyms often don't have these, so it's a good idea to bring them for every workout. It's a great dropshipping product, because it's cheap, light-weight and solves a problem.
10. Ultra-Fast Elegant Charger Socket
When it comes to best selling products on AliExpress, nothing beats phone chargers. What many sellers realise is that there is nothing more painful than having a dead phone and nothing to do. Smartphones are an integral part of our lives; Elon Musk even went as far as to say that humans are pretty much cyborgs – we can't live without our phones. It's like having a super-computer in your pocket at all times – don't let it die.
11. Niche Blackhead Skin Care Removal
Unfortunately, people tend to judge the book by it's cover. Looking good has always been important. This little gadget is a new generation microdermabrasion, meaning it won't cause redness and it uses ultrasound in order to achieve an ultimate result. This is a best seller in disguise, be sure inlcude it into your store. Another reason why this is a good product is because if you choose to sell it, you'll benefit from the free shipping that this seller offers.
12. Posture Correcting Brace
Research shows that over 43% of adults have bad posture, with 10% of a population having it so bad that it affects the way they sleep, which can ultimately cause sleep deprivation and in some cases brain damage. A lot of sellers have already capitalized on this. This is certainly an easy sell and an opportunity that you just cannot miss. Selling a product has never been easier!
13. Airpod Covers
Apple is everywhere, everyone owns an iPhone, Apple watch and Airpods. The bad thing is that Apple doesn't really provide cool accessories for their products, a notion that a lot of Shopify sellers capitalized upon. That's where AliExpress comes in with these cute Airpod Covers, should be an easy sell, the demand is there!
14. Smart Toilet Motion Sensor
You wake up in the middle of the night to do your business, but you don't want to turn the lights on, as it will be hard to go back to sleep. Know the feeling? Most people would be a hefty price for a product that would solve this issue. This is the perfect solution. With the soft, warm glow and motion activation, this is a perfect little gadget for any household. This is one of the more interesting best sellers on our list.
15. Face Mask Filter
As more and more modern people are driving their cars, walking and cycling has become more of a norm. Cycling in urban areas, although pleasant, can be bad for you lungs, with all of those car fumes. This is the perfect solution, especially for those living in the big cities, making it a perfect ali express best seller.
16. Portable Mini Perfume Bottle
Best AliExpress products are the ones that fulfil a need. No one will argue with the fact that smelling good at all times is really important. This best selling product does just that! If you have an ecommerce store that sells women's products, then this item should not be overlooked, it's one of the more unique and elegant products on this list and it is unlikely that many other sellers would have the idea to start dropshipping this – use that to your advantage, this is what AliExpress is good for.
17. Brown Bear Transparent Cosmetic Bag
Looking to start selling something elegant? Just like Hello Kitty took the world by storm, something similar is happening with the AliExpress Brown Bear brand: It's stylish, it's affordable and it looks cool. What's not to like?
18. Car Magic Windshield Scraper
If you were looking to start selling a truly useful best selling, modern product in your Shopify store then look no further! There is nothing more annoying that to be rushing to work and having your windows covered in ice. This little product solves this problem perfectly! This is a seasonal object that can only be found on AliExpress, so plan accordingly.
19. Moonstone Bracelet
Cool, edgy products like these never go out of style! No wonder that this product got over 20,000 orders on Chinabrands, the demand is certainly there! If your ecommerce store is in this niche then make sure to include this little gem to your arsenal, it's well worth it – Aliexpress numbers don't lie!
20. High Tech Modern Dash Cam

We all like watching those YouTube videos of crazy drivers getting into all sorts of accidents on the road. Whilst in some countries dashcams aren't obligatory, in most modern countries it's required by law to have a dashcam and many sellers are aware of this. It's better to be safe than sorry!
21. Apple Watch Glass Cover
Everyone is selling iPhone cases and iPhone screen protectors, but no one is selling Apple watch glass covers for some reason. This is a good niche to go into, the demand for Apple products in certainly there. Apple products are on the rise, especially on AliExpress, so don't miss this opportunity and implement those to your ecommerce store!
22. Smart Watch
Apple products are well made and considered luxurious by many. However, elegant and timeless modern designs come with a hefty price tag - not everyone can afford them. This smart watch is a cheap counterpart to the Apple watch, with the all of the same features, but for a fraction of the price. Choose your niche wisely. Consider selling those in your store if you're in the electronics niche.
23. 3-in-1 Knife Sharpener
Those that cook at home know very well that there is nothing more frustrating than having dull knives. If you use your knives almost every day, you'd be amazed at how fast they lose their original sharpness. That's where AliExpress comes in with the best AliExpress home knife sharpener, consider including it to your ecommerce store. The interesting thing about this niche is that you can get these knives from Alibaba for a very small price (as a sample), if you manage to convince the Alibaba suppliers that you are a real business and intend
24. Hip Muscle Stimulator
The health niche is quite competitive, when it comes to modern dropshipping, so selecting the right best selling product category is essential for success. If you're looking for such product then this would be a good choice. This is one of the least known best sellers. Staying fit is very important, however not everyone has the time for that. Whilst this gadget cannot be used as a substitute for a good workout, if you're busy and don't have the time for a proper workout, this could be the ideal, temporary solutions, so definitely give it a go.
25. Pet Bed
A huge amount of modern households have pets, that's why this is a great niche to get into. There is something about having a pet that appeals to most people. There is a good reason why videos of cats and dogs are some of the most watched on the internet! There is a lot of demand for pet products out there. A smart seller is looking at trends in order to decide their selling pattern. Be sure to jump on the bandwagon and don't miss out this opportunity!
26. Slimming Belt
If you're looking into including this best selling product into your Shopify store arsenal, then be sure to do so. This cool product allows you to slim your waistline by a whooping 3-5 inches! The slimming belt firmly wraps around your midsection and abdomen giving you that highly sought-after hourglass curve figure.
27. Edgy Earrings
These elegant earrings are handmade from stainless steel and brass, giving them that highly sought-after luxury, yet modern and casual look. Truly unique product, only found on AliExpress, definitely worth including into your ecommerce arsenal.
28. Wireless Muscle Stimulator
Everyone wants to be healthy, elegant and look good, but not everyone has the discipline and motivation to regularly go to the gym. This Wireless Muscle Stimulator can certainly be used as a temporary workout substitute for those that don't have enough time to go to the gym.
29. Handmade Silver Sphere Ring
Anyone who is into astronomy, astrology or just likes artistic expression will choose ring! This is one of the more modern ring designs on AliExpress. The original design goes back hundreds of years, where it was used as powerful status symbol. Now anyone can have it, be sure to include that into your Shopify store.
30. Cat Eye Sunglasses
This best selling product certainly has one of the more timeless designs out there, that is not going out of style any time soon. Numbers don't lie, this is by far the best seller in the sunglasses category on AliExpress – be sure to include this product into your Shopify store!
31. Van-Gogh-Style T-Shirt
Time and time again, clothes have proven themselves to be some of the best selling dropshipping products. The good thing about clothes is that you can start a dropshipping store on any official marketplace, such as eBay, Amazon and Chinabrands.
32. Casual T-shirt
When it comes to dropshipping, it's important to pick products that spark an emotional response. Modern clothes that have colors, stickers and banners with pets are great for selling online. Be sure to include it into your store arsenal!
33. Transparent iPhone Case
A staggering 43% of all of the modern mobile users on the West are iPhone owners. That says a lot about the current start of the market. Why not capitalize on that and start selling iPhone accessories? From a dropshipping standpoint, this is the perfect product, as it's low price, light-weight and in huge demand. It's certainly worth including to your online store!
34. Elegant Womens Designer Tank Top
Womens clothes is one of the best selling niches to go into and is certainly worth considering. This category of products is easy to sell, provided that you pick an official store on AliExpress that has HD photos. This product is low price, elegant looking and in huge demand, so certainly worth adding to your online store.
35. DIY Modern Airplane
Official DIY products category is currently on the rise, with it being one of the most appealing and best selling product category on AliExpress. The supplier for this particular product, being an official Alibaba store on AliExpress is offering free shipping coupons if buy multiple products.
Final Words
Dropshipping AliExpress products has never been easier! There are many websites, suppliers directories and Shopify stores on which winning products can be found, we consider AliExpress to be one of the best, it is a proven site for finding top dropshiping products time and time again.
Using the tips in this article, you will be able to find best selling products that sell well, solve customer problems and earn rave reviews. If you enjoyed this article, please share it with anyone who might be interested and help spread dropshipping knowledge throughout the community.