An Ultimate Guide to Retail Arbitrage For Complete Beginners
Do you love to shop? Are finding good deals important to you? What if we told you that you could find good deals, shop, and make money? Not only make money, but set your own hours and be your own boss!
Retail arbitrage is the way to accomplish this! This guide will help you understand retail arbitrage and how to get started. It will give you an estimate of how much money can be made as well as the legality of retail arbitrage.
Retail arbitrage has been around for years, almost as long as third party sellers on Amazon. However, retail arbitrage is still profitable and absolutely achievable as a full time occupation. In 2020 you can still make a sizable profit as one business made over $2 million dollars in 2019.
What is Retail Arbitrage?
Retail arbitrage is simply buying merchandise to resell. It's as easy as that. It is the task of purchasing products at local stores and then selling them through online marketplaces for a profit. Some of the local retails stores that are most reliable are Walmart, Home Depot, and Target. The common online marketplaces are eBay and Amazon with Amazon being the most popular because of the ease of shipment with their Fulfilled by Amazon (FBA) program. We will talk more about that later.
The items that are purchased at the retail stores for retail arbitrage are generally on sale or clearance items. These items must offer a momentous discount compared to the retail prices in order for a probable profit when sold.
Earlier we mention selling the retail arbitrage items on eBay or Amazon but there are several other marketplaces as well. For example, Jet, Walmart.com, Etsy, and Craigslist are few marketplaces that accept retail arbitrage items. Let's not forget Facebook Marketplace, OfferUp, and Let Go as potential profitable marketplaces.
The most popular marketplace is Amazon. This is because they offer Amazon FBA (Fulfilled by Amazon).
What is Amazon FBA and FBA?
First, Amazon FBA means Fulfilled by Amazon. Basically, you sell it and Amazon ships it. You pack up all of your retail arbitrage items you wish to sell through Amazon and ship it to a fulfillment center and then Amazon takes care of shipping it to the customer. They pick, pack, and ship the products once they are sold. Customer service is also taken care of by Amazon which is very convenient and beneficial.
Next, FBM means Fulfilled by Merchant. For FBM, you list your item on a marketplace but storing and order fulfillment is your responsibility. You sell it, you ship it. A benefit of FBM is control. You can access your inventory at any time for your retail arbitrage goods. Sometimes shipping by yourself can be cheaper than the fees Amazon charges but not always. Researching Amazon's shipping fees is the first place to start if you are indecisive about FBA or FBM.
Where's the Profit?
The profit from retail arbitrage comes when you buy a clearance item at an undoubtedly lower price than you will earn when you sell them on an online marketplace. Remember, profit is what you earn after taking out all costs for the product such as initial cost, shipping fees, and marketplace fees.
For an example, let's say you bought a water filter for $5 on the clearance shelf at Walmart. It is selling for $20.99 on Amazon. After Amazon's shipping costs and other fees, Amazon will pay you $14 after a customer buys your water filter. You have just profited $9 on your original investment of $5. You almost doubled your money. This is how retail arbitrage returns a profit.
So how do you know if you will make a profit on retail arbitrage? There are plenty of apps available for your smartphone that are tools in your back pocket. These apps allow you to scan the barcodes of items and see what they are selling for, how they are selling and what fees you might obtain while trying to flip them. Some of these apps are even free!
More on these apps later!
How To Get Started
As we mentioned earlier, there are numerous marketplaces to sell your items purchased for retail arbitrage, however, we will be sharing how to sell on Amazon. We chose Amazon because we love the FBA feature. Getting started is very similar with most marketplaces so it should be easy to connect with others.
To get your first product listed for sale on Amazon is easy! Here are the steps.
1) Create an Amazon Seller Account

2) Download the Amazon Seller App available in the App Store and Google Play

3) Take a shopping trip down the clearance aisle at your local stores

4) Use the app to scan items

5) If there is a profit over $3 after fees and shipping, buy those items!

6) List the item on Amazon for sale.
Step 1: Create an Amazon Seller Account
Before going out and shopping, set up an Amazon Seller Account to sell your retail arbitrage goods. You have to have this account to sell items on Amazon. It will also grant you access to some of the features you need to get started.
To get you directly where you need to go, visit services. Amazon.com. It should look like this:
When you get to the website, click on the yellow "Sign Up" button to get registered for a Professional Seller's Account.
Once you get to the website, the yellow "Sign Up" button will begin the process for registering for your seller's account. Keep in mind, it is $39.99/month plus shipping costs. This $39.99 a month is the monthly fee no matter how much you sell.
Another option if you dislike the $39.99/month fee is to sign up for an individual seller's account. If you keep scrolling down the page, you will find a link that says "Just have a few items to sell?
Sign up to become an individual seller." Click that to get started registering for an individual seller account to sell your retail arbitrage items.
What is the difference between Professional Seller's Account and Individual Seller's Account?
There are many differences between these two types of accounts through Amazon for retail arbitrage. First is the fees. As we mentioned, the professional account is a monthly fee of $39.99. The individual account is charged 99¢ for each item sold. If you plan to sell more than 40 items a month, then getting the pro account is the way to go.
Another difference is the buy box eligibility. A pro account is the only type of account eligible for the buy box. So what is the buy box? It is the box that lists the price as well as the orange "Buy Now" button and the "Add to Cart" button. 
Notice that this vinyl is sold by Lqqdirect. When a customer clicks to add this to cart or buy now, it will be purchased from this company. If you have an individual account, you will not be eligible for the buy box and customers much click "new & used (#)" in order to purchase from your retail arbitrage goods.
Another difference between these two types of accounts is the collection of sales tax. Only professional accounts have the opportunity to have sales tax added on to their products.
There are numerous more differences between these two accounts and they are listed on Amazon's pricing page at services.amazon.com
Amazon provides an overview of their individual seller plan and their professional seller plan. Visit services.Amazon.com for more comparison info.
Overall, we would recommend the professional plan as soon as it becomes financially logical. You can move to the professional account at any time.
When you have decided which account you'd like, it will take less than ten minutes to get your account setup and to start selling!
Step 2: Download the Amazon Seller App available in the App Store and Google Play
After you've signed up for your account, you can now download the app that will inform you of which retail arbitrage items to purchase and which items to pass on. This app is very beneficial and free.
There are many other apps out there for retail arbitrage but the Amazon Seller App is the best app for beginners. It has all of the information you need to get started and to keep going. The app allows you to scan the barcode to get the information you need. It will show you the price it sells for on Amazon, the fees Amazon will charge you, and other helpful information.
Other Retail Arbitrage Apps
There are so many other retail arbitrage apps available on Google Play and the App Store. Here are the top three aside from the Amazon Seller App. These work well with other marketplaces besides Amazon.
1. Scoutify
Scoutify offers many benefits for retail arbitrage entrepreneurs. It will blend with third-party apps and sync with other apps to find the most recent information. It will keep track of taxes so you have a final price instead of estimating. You can scan with Bluetooth and there is a shopping list to show you your past purchases. Finally, you have access to InventoryLab which has a plethora of reports, sourcing and bookkeeping features. A couple of downfalls with Scoutify is that it is not available on the App Store and you must purchase a package inorder to use it. This may be an app you purchase after you get started in retail arbitrage or try the free one-month trial.
2. Profit Bandit
Profit Bandit also requires a paid subscription but it is far more affordable than Scoutify. It provides the more current information which is imperative when making the decision to purchase retail arbitrage items. The lower price makes it great for beginners and it is available on both platforms.
3. FBAScan
FBAScan is great for those stores that have terrible cell signals. FBASCan has local databases that information can be pulled from. Available on both platforms, this app stands above because of its ability to give you information without needing data/wifi.
A retail arbitrage app is an important tool to be successful. It's all the information you need right at your fingertips! Whether you choose to sell on Amazon or another marketplace, be sure to download an app (or two!) to help you make the most informed decisions. Be sure to have whichever app you choose, downloaded before you go shopping.
Step 3: Take a Shopping Trip Down the Clearance Aisle at Your Local Stores
Just a few of the local stores that mark down products that can then be used for retail arbitrage
Trying to make the decision as to which stores you should get started at with retail arbitrage can be difficult, but it doesn't have to be. Simply pick the store that is closest to you and that you are the most comfortable with shopping at and start there. Make it easy on yourself on your first trip. The more you shop, the more comfortable you will be. Here is a list of brick and mortar stores to shop at for the purpose of retail arbitrage. 
Bed Bath & Beyond
Best Buy
Big Lots
Burlington
CVS
Dollar General
Home Depot
Lowes
Marshalls
Menards
Office Depot
Rite Aid
Staples
TJ Maxx
Walgreens
Walmart
Step 4: Use the app to scan items
Now that you are at the store and you have the Amazon Seller App installed, it's time to put it to use. At the beginning, it may be difficult to know which items are best for retail arbitrage. That is where your app comes into play. The best items are the ones that are going to give you the best profit. This is going to be a hunt, it is going to take time. Don't limit yourself to one item or kind of item.
For every retail arbitrage item you plan to purchase, you should scan it with the app before you purchase. Doing this will tell you the fees Amazon will charge you so that you can make a knowledgeable decision about that item. With the Amazon Seller App and others, you should know ahead of time what you should make as a profit.
There are many tutorials available on how to use the Amazon Seller App both in the form of blogs and youtube videos. We suggest you take some time and learn the app. We are going to look at two criteria to know if you should move on to step five.
After you scan a barcode with the app, you will be taken to the product details page for this product. The first criteria to look at is the selling eligibility. A green checkmark will appear and it will say "You can sell this product in new condition." If a green checkmark does not appear, move on to scanning the next item.
The second criteria to look at on the product detail page is the sales rank which is located in the upper left-hand corner. You can use this sales rank to get an idea on how often this item is selling. The lower the sales rank, the more the item is selling. For beginners, if the sales rank is below 250,000 in their category, it is an appropriate item to purchase. As you get more advanced in retail arbitrage, you should seek products with lower sales ranks, however, starting out, find items with a sales rank below 250,000.
If the product doesn't meet these two criteria, put it back on the shelf and continue scanning other products. If it meets one or the other but not both, do not purchase the item. If it does meet both requirements, you are ready for step five!
Step 5: If there is a profit over $3 after fees and shipping, buy those items!
The next step is to decide if you are going to purchase an item. This can be done right in the Amazon Seller App. Again, watching or reading a tutorial on how to use this app will be beneficial.
From the product screen, you will go to the next screen that will give you the option to see prices if you were to fulfill the order or if Amazon was to fulfill the order. You enter in the selling price you would charge, your cost to ship it per pound, and your cost to purchase the item. A fair price to put in for shipping is 50¢ per pound. As soon as you have entered in this information, you can see the expected profit for the item.
Now, you're not quite ready to buy, there are still two more things to check on. First, you want to see if the net profit number is higher than your minimum profit that is acceptable for you. At the beginning, we suggest this minimum to be $3 per item. What this means is that you won't buy any item that you won't make at least $3 on when you purchase it. This allows a profit to be made if there is a drop in either the price or the demand. This minimum is entirely up to you but $3 is the suggested minimum profit.
If the item meets this minimum, then you want to calculate the ROI (return on investment) percentage. This is a quick punch of the calculator. Divide your profit by the cost of the item. For example, if you purchase an item for $10 and your project profit is $6.50 then you would do $6.50 divided by $10 to get the ROI percentage which is 65%. We suggest that beginner retail arbitrage entrepreneurs look for a ROI percentage greater than 50%.
So in a nutshell, as a beginner in retail arbitrage, an item with a profit greater than $3 per unit and a ROI greater than 50% is an item worth purchasing. Now poses the question, how many units of this item should you buy.
If the item has met ALL of the criteria, then we recommend purchasing up to six of the item. This will keep your risk low if the price was to drop and helps keep your inventory variegated. If you buy more than six, you run into the problem of getting them to sell through in a timely fashion.
The more you shop and sell, the more you will understand when it is appropriate to purchase more than six units of one item, for example, a high demand item that will produce a sizable profit.
It is important to go through these steps each time you scan an item to ensure the greatest return on investment possible. Those step again are:
1. Check your eligibility

2. A sales rank less than 250,000

3. An estimated profit is more than $3 a unit

4. ROI percentage is greater than 50%
These steps are designed to help you be efficient with shopping and move quickly through items that don't fit your requirement.
Of course, these will be tweaked the more advanced you become buying and selling for the purpose of retail arbitrage.
Step 6: List the item on Amazon for sale
Now that you have purchase items for resale, it is time to list them for sale on Amazon. This is also where you would ship them to the FBA warehouse if you have chosen to use Fulfillment by Amazon.
It is highly recommended that you use this feature that Amazon offers for the ease of fulfilling orders as well as the fact they handle customer service. You do not have to use FBA for every item you purchase and sell but it allows you to ship in bulk which can cut down shipping costs.
Just like the tutorials on how to use the app, there are tutorials on how the listing process as well. Check these out for in depth directions on listing an item for sale on Amazon.
Other marketplaces have their own set of directions for listing, tutorials for these marketplaces exist too!
Is It Worth It?
How much money can I expect to make with retail arbitrage using Amazon FBA?
Now that you know how to get started with retail arbitrage, let's investigate the predictable profits.
Unfortunately, there is no set, guaranteed amount that we can tell you that you will make while flipping products. It all depends on how much time and money you are willing to invest. It is not a hobby or job that will take off over night. The more money you are capable of investing will turn into more inventory you are capable of buying. The more inventory you have, the more you can sell. The more you can sell, the more money you can make.
Here are just a couple of examples of individuals that have turned retail arbitrage into a full time business with a healthy profit. Within the first three months of selling online, one gentleman took an initial investment of $5000 and profited $16,376.35. This was money he had saved over time. Another gentleman took $500 and turned it into $10,000 in just four months.
So, you might be asking yourself what if you don't have any money to invest but you have time to invest? Try The Flipping Challenge. The Flipping Challenge is simple. You take five items you already own, maybe something you've been meaning to get rid of or something you don't use anymore, and sell it on Craigslist or Facebook Marketplace. You take that money and reinvest it into more products and then sell those products. You keep doing this over and over. Your goal should be $1000 in 90 days.
Working hard and investing time are important aspects of retail arbitrage. Retail arbitrage is still possible even if you don't have any money to invest initially.
Is Retail Arbitrage Legal?
One of the main questions we get deals with the legality of retail arbitrage. People want to know if it is legal. We understand why this would be a concern as no one wants to break the law and end up in jail, but no worries, retail arbitrage is legal. If merchandise has been legally collected, a company can not stop someone from reselling it according to the US Supreme Court. This should give you a peace of mind as you begin your new business.
Within Amazon, there are some restrictions to what you can and what you can not sell. Some products are illegal to sell on Amazon because of compliance. Others are just regulatory restrictions per Amazon policy. Other products require prior approval from Amazon to be sold which can be a lengthy process. Amazon explains their restrictions on their website in the "Restricted Products and Listing Restrictions Help" section as well as their "Categories Requiring Approval" page.
Although retail arbitrage is perfectly legal, you will receive some harassment if you decide to sell some branded items. If you are not an authorized dealer for some brands, they will try to intimidate you into not selling their products. They have no legality for making you cease the selling of their products.
The First Sale Doctrine gives an individual who legitimately purchases an item the right to sell, display or otherwise dispose of a copy of a copyrighted work. There is no copyright infringement that takes place. One thing to keep in mind though that if the product has been altered from the original state after manufacturing, the reseller loses the immunity. For example, if you purchase an item in a damaged box and take it out of the box and put it in your own package with creative illustrations you drew on the box, you could be liable for copyright infringement.
Keep in mind, marketplaces have rules and procedures that may be stricter than laws. You must follow the marketplace rules to sell successfully. Just because you have the right to sell an item doesn't mean you have the ability to sell it on certain marketplaces. Be prepared to stop selling a brand if you do not have permission to sell it on the marketplace you've chosen. You can try listing it on another marketplace or don't make the initial investment to begin with.
Retail Arbitrage Tips
As your exploration into retail arbitrage begins, there are a few tips that we would like to share to encourage your best chance of success.
Look at the data!
Look at the data and use it. The apps give you all the information that you need to be successful and earn a profit. Don't be surprised by Amazon's fees as the app will share these with you before you make a purchase to resell. Know the numbers that the app is giving you.
Try not to assume
It is important to make as few assumptions as possible. You need to use caution against assuming things will not sell and therefore not worth scanning. People buy "crazy" items all the time and you can be the one that sells these items to them. Take time to scan the items and let the app tell you if they are worth selling, don't just assume they are not worth it.
Markdown schedules
Learning stores markdown schedules will give you a huge advantage in the retail arbitrage world. As we know, the longer an item sits on the shelf, the greater the discount will become, however, the demand will likely decrease as well. Figuring out how each store processes its markdowns and using this information will give you a leg up on your competition.
Socks on clearance at Target. Socks can sell really well through retail arbitrage, especially ones with funky designs!
Let's use Target as an example in knowing how a store works. Target usually starts with their markdowns being 15% and it will increase the longer the items sit on the shelf. Target's normal progression is 15% off, then 30% off, then 50% off, then finally 70%. Of course there are exceptions to this but if you are at Target and there is an item for 70% off, then more than likely, this is the lowest it will be discounted.
Learning how stores' markdown schedules will be advantageous to your retail arbitrage at the beginning as well as throughout your journey. There are many blog posts available from bloggers who want to share the information they have learned when it comes to a store's clearance procedure. Take a minute to research these posts to learn something you may not know.
Be patient
Time and patience are two aspects that are required in retail arbitrage. You will need to gain experience before you know which items will be profitable and which ones will not be. It takes time and patiences. This experience will come.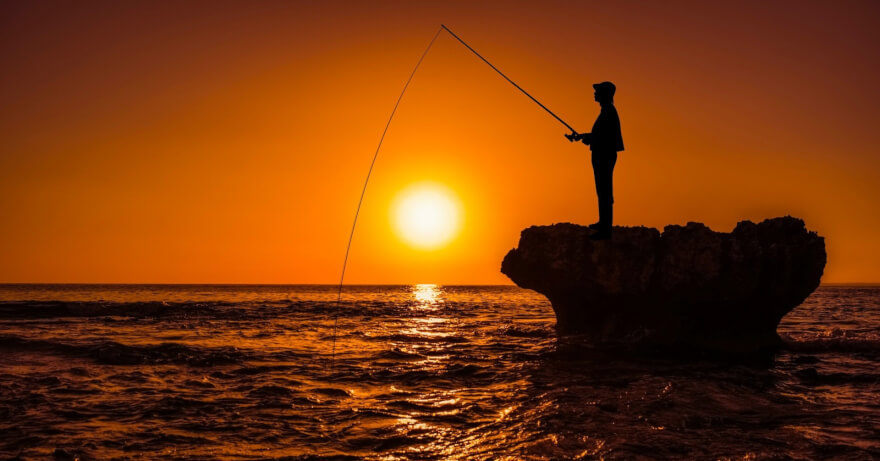 Retail arbitrage can be compared to fishing. Some days you catch your creel limit, some days you don't.
Retail arbitrage is like fishing. You can go out and search all day and never catch fish, as you can go out and search and never find an item worth selling. Then again, you can go out and catch your creel limit of fish the next day. An expert fisherman and a beginning fisherman can go out and catch different numbers of fish on the same lake. The more fishing you do, the better you will figure out where the fish are bedded down at. This is true with retail arbitrage as well. The more searching and scanning you do, the more efficient you will become in sourcing for the purpose of retail arbitrage.
Don't be rushed in the store
Take as much time in the store as you need. Many beginners want to go to as many stores as possible in a single day to find the best deals. However, it can be more beneficial to spend more time in one store than to go to several different stores.
When you go through all of the items in the clearance section and purchase all of their deals, you actually save time because you are not losing driving time as you travel between stores. Not only can you purchase all of their deals but now you have an idea of what to look for at other branches of the same store.
For example, let's think about the water filters from earlier. You scanned the water filter and figured out you can make a $9 profit off each filter. The Walmart you currently are at only has three in stock so you purchase those three water filters. You get online and see that the Walmart a couple miles down the road has 3 more you can purchase. You have just made $54 in a short time frame and you didn't have to take time searching for that deal again at the next Walmart.
Keeping in mind the water filters, you continue to scan more clearance items and find more deals, you check online and see there are more available at the other Walmart. Soon, you find between what you spent at the current Walmart and what you expect to spend at the other Walmart, you've reached your budget for the day and you only had to scan the products at one store.
Sometimes, this process can take 30 minutes, other times, it can take a couple of hours. Be ready to invest this time, especially as you begin this journey.
Quick Turn Around
Once you have purchased items for sale, it is important to get them listed quickly and get them shipped to a FBA warehouse. Let's face it, we are all guilty of packing up a return or a bag of clothes to go to Goodwill and leaving it in your car for a month before actually dropping it off. The items you purchase and list can not be treated this way. The longer it takes you to sell them, the lower the profit will be. As you shop, think about when you will be able to get the items shipped. Ideally, two days is a decent turn around time. Pack them up and have them shipped out the day you purchase or the day after.
These are just a few tips we believe you will benefit from as you contemplate starting retail arbitrage. Whether you want a career or a hobby, we know you will be successful if you follow this advice!
Learn more about retail arbitrage and Amazon FBA
There are so many resources and training programs for people interested in retail arbitrage and Amazon FBA. There are books available that will give you a blueprint and more tips and tricks.
One book is Become an Amazon Selling Legend Using Retail Arbitrage: Make Money and Fulfill Your Dreams with an Online Business (Legendary Seller Book 1) by Danny Stock. Mr. Stock provides more tips and tricks to the retail arbitrage world as well as shares a method he uses that he has never shared with anyone until the publishing of his book.
There are also numerous books available on Kindle Unlimited. One of these books is Flipping Into Amazon FBA: The Beginner's Guide to Flipping for Profit & An Introduction to FBA (Create An Online Income From Thrift Store Flipping, Retail Arbitrage, & Amazon FBA) + Bonus Material by Wes Davis. This book is a comprehensive beginner's guide and compares different marketplaces to ensure you are selling on the best one for you.
In Conclusion
So whether you want to start retail arbitrage as a hobby or as a full-time job, there are many things you should know and consider before jumping in. Hopefully, this article gave you some insight and helps you make an educated decision. It isn't going to be easy as it takes time and hard work to get started and be successful. However, if you like to shop, find deals, make your own hours, and be your own boss, retail arbitrage just might be the career you have been looking for!