The Secret To Finding Untapped Dropshipping Products With Viral Potential
Finding dropshipping products that have sold well in the past is easy. Posture corrector, Moon Lamp, Talking Hamster, the list goes on and on. Finding untapped dropshipping products with viral potential that are not is much, much harder.
In dropshipping, both the first mover advantage and the "best mover" advantage are very, very real. Being one of only a few sellers scaling a product successfully means that revenue & profits are not competed away by other players in the field.
This is exactly why when you take a look at the best selling products of the very top dropshipping stores, rarely do you find any overlap. In this article, we're going to walk you through step by step exactly how to 1) Find these untapped products and 2) Scale them before anyone else.
What Is A Trending Product?
In his studio album The Life of Pablo, rapper Kanye West raps the lyric "I've been trending years, y'all a couple days". Similarly, in the world of dropshipping, there are products that are quick fads that won't grow over time and therefore won't provide steady revenue stream for your dropshipping store.
If we look at the Google trends for Fidget Spinners, we can see that although the peak interest was huge, the long term potential for fidget spinners was very low and not suitable for a long term dropshipping store. In reality, you will want your dropshipping product not only to be trending, but also viable in the long term in order to generate steady monthly income.
We can get some idea of what it means to be a steady trend rather than quick fad by taking a look at the Google Trends for the keyword "Posture Corrector" and comparing them to that of the fidget spinner.
In this scenario,we can clearly see that the posture corrector is the better product to sell in both the long term and the short term, and interest is slowly growing over time - which corresponds to steady sales growth over time despite the increase in competition.
You might be thinking, how can I translate this into a workable product research technique? No need to worry, SaleSource's Trending Now products has already done all the hard work for you.
Using our machine learning algorithm, SaleSource takes into account search trend data, sales volume data from AliExpress, recent upload and best seller data from Shopify and much more into an algorithm designed to present untapped, trending products with viral potential.
In the above example, we can see some great products with potential for large sales volumes around the Christmas gifting period.
The kawaii snacks cable protector and the iPhone case are particular favourites of ours, and have a very nice appeal for Christmas gifts, as well as the skull ice mold.
There are hundreds of products uploaded each day, and only paying customers can view the full product backlog, meaning that saturation will not be an issue. No wonder influencers like Arie Scherson, Ricky Hayes and Rafael Cintron say this is one of their favourite ways to find winning products.
In addition to being able to see Trending products daily, there is also the option to view them on a live store - so you can see how top dropshippers are presenting their products. Paired with the SaleSource Store Analyzer, this can be a very useful feature for competitor research and store inspiration.
Finding Trending Products in Your Niche
Many dropshippers, especially in the early stages, are looking for inspiration in terms of what to sell. At SaleSource, we always suggest beginners try and sell something they're passionate or knowledgeable about, but how does one go about getting consistent inspiration regarding products in their niche?
Using SaleSource's niche tracker, you can subscribe to any of 30 product categories and view vetted and trending product recommendations in a personalised product feed.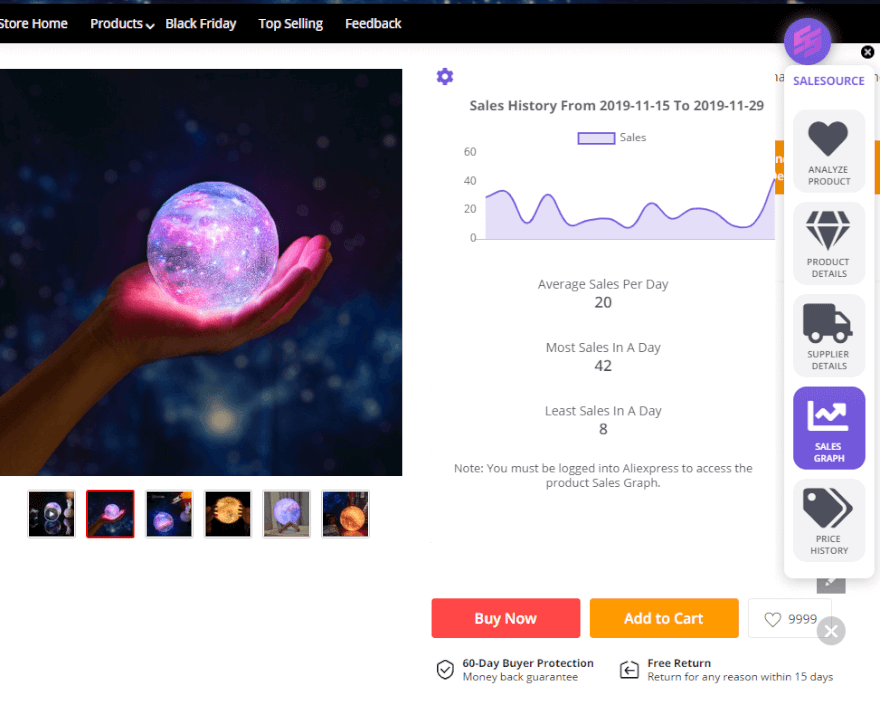 You can choose multiple categories and fill up your feed with products that matter to you, which are filtered though the SaleSource ranking algorithm for maximum relevance.
How To Pick Viral Products
There is always the risk of losing money on advertising a product that simply won't sell. Which is why you will want to personally vet the products you've short-lised by asking the following questions.
Does your product solve a problem?
Does your product have video footage to make viral or shareable content with?
Does your product have a "cool" factor or "impulse purchase" factor?
Do you personally approve of your product? Could you see it selling?
What does the product sales history look like on AliExpress?
How many other competitors are selling it? (Check using the SaleSource store analyzer)
You can use the SaleSource Chrome Extension to check the sales history and find out whether not the sales volume is increasing, decreasing, or staying the same for the past 6 months.
The product above is averaging 20 sales per day, just on one listing. At a selling price of $40, just this one product could generate over $25,000 in revenue if sold at the current rate.
While branding and marketing will play a key part in generating that amount of sales volume, a good foundation has already been set thanks to the quality of this product.
Saturated Products
A similar product, the Moon Lamp, has generated well over $1,000,000 in revenue on AliExpress alone and is now considered a saturated product. A saturated product is a product that has been over-advertised on multiple sales channels.
With this example, the Moon Lamp has been advertised everywhere - Instagram, TikTok, YouTube, Facebook and many more marketing channels. This is not to say that the Moon Lamp is impossible to sell, but it is to say that if someone is going to buy a Moon Lamp, they're unlikely to be buying one from you.
Final Words
The real key to finding a winning / viral product is persistence. You must keep testing different products until you find a winner.
The reality is that the more products you test, the more likely you are to find a winning product - and during this process also be constantly improving your store, ad copy and branding. We hope that the tools and techniques discussed in this article help you find your winning products.