The Complete Guide To Finding & Dealing With AliExpress Suppliers
Finding the right supplier is perhaps the most important thing when it comes to starting your online dropshipping business. The whole customer experience, after placing an order on your store, is dependent on your supplier fulfilling the order in time and getting the customer their order as quickly as possible, undamaged.
In this article, we're going to go over how to find a supplier with great communication, low product prices and fast shipping so that your brand can deliver the best possible experience to your customers.
A Bad Dropshipping Supplier Can Ruin Your Business
Imagine your dropshipping store is booming. 30, 40, 50, 100 new orders per day - most of which are your best selling product. You're excited to scale your store. But there's a problem. Your profit margins are low - because your product cost is high, and ad costs are increasing. Then one day, while browsing AliExpress, you see something strange. Very strange. Your same best seller, but being sold for less than half the price you are currently paying.
Your first reaction is to deny it, "that can't possibly be my product, it's not that cheap to manufacture". But then you look at the reviews. It is indeed the same product, and you've just fulfilled over 200 orders spending more than twice the product price. In other words, your profit could've doubled.
This is the real story of Finlay Davis from Dallas, Texas. He started his streetwear store, found a winner, but didn't know that such price differences were possible on AliExpress. Once Finlay switched to sourcing his winner from the cheaper supplier, his profits jumped from just 15% to 33% almost instantly. Finlay then searched for a way to do the same with all his products, came into contact with SaleSource for the first time and the rest is history.
The Truth About AliExpress Suppliers
AliExpress suppliers make a profit too. While some sellers represent a warehouse selling their goods directly on AliExpress, other sellers are independent companies who buy goods directly from factories when you purchase from their store, adding a markup to each product. In other words, they are "dropshipping" to you, at least in terms of the way they add markups to their products.
Once a sellers product is established on AliExpress - meaning it has many sales and reviews, sellers can hike the price up to try and get as much money from their customers as possible. Sellers can also delist their inventory at any time, or have their accounts banned for minor reasons.
This can have disastrous effects on your ecommerce business, as not being able to fulfill orders presents a huge bottleneck to scaling. Even if you cannot fulfill orders just for a few days, customer complaints will pile up, asking for tracking numbers and refunds.
Luckily, there is a solution that solves all of the above problems and many more. A solution that is the difference between a failed and successful dropshipping venture - since you need to be turning a profit to scale quickly, and to scale quickly you must have a reliable supplier.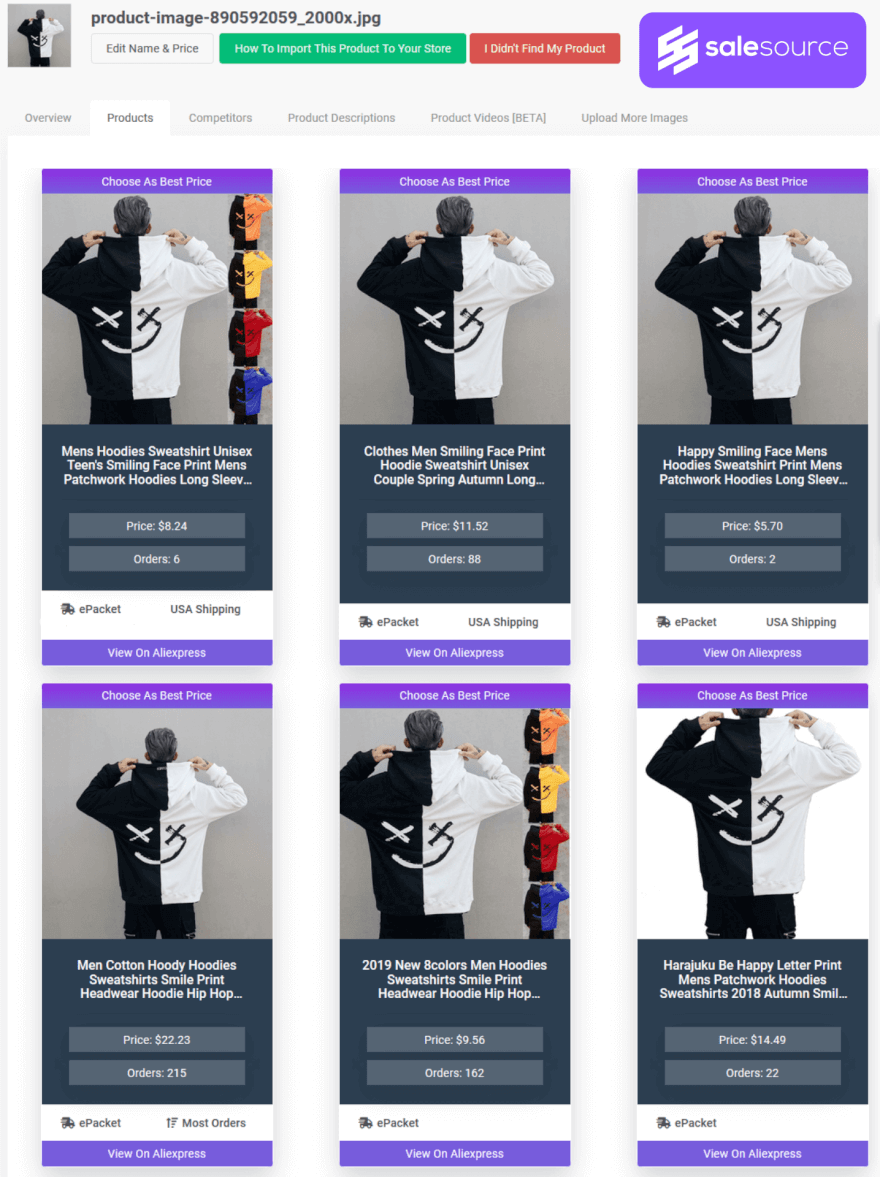 Finlay found that the exact same product was being sold by another supplier for a much cheaper price. How was this possible? Well, we got in touch with the Chinese manufacturer and asked about the unit cost of the product, a streetwear hoodie.
The unit cost of the product turned out to be only $3.48, meaning that both suppliers were making a profit upon selling it. The most surprising fact, however, is just how many sales it took to notice that the exact same item was available at a 65% discount - from $22.23 to $7.89.
AliExpress does not advertise this fact, or make it clear at all. AliExpress has an incentive to sell you more expensive items, since they also receive a larger amount of money when you purchase more expensive products (as they take a percentage of each sale).
Automate Finding The Best Supplier Every Single Time
Luckily, there is a better way to find the best suppliers without searching AliExpress for hours per product. This solution also helps with much more than finding the cheapest cost- the following method allows you to find suppliers with the lowest price, ePacket shipping, USA shipping and more.
Using an advanced machine learning algorithm, SaleSource instantly finds vetted suppliers for any product, allowing you to compare which suppliers are the best for you to buy from. You can quickly compare all available suppliers selling the same product on AliExpress. This works for virtually any product, and is a necessary step to building a profitable dropshipping business.
Therefore, using a dropship spy tool such a SaleSource is imperative to finding AliExpress suppliers.
The tool also solves the problem of suppliers de-listing their products from AliExpress, which would prevent you from fulfilling your customers orders. In addition, if suppliers hike their prices, it takes one click to switch to another supplier offering a better price.
You can also find the listings that have USA and ePacket shipping available, which we will talk about in the next section.
The Shipping Advantage
Since you can now view all available suppliers for any given product, you can now also view all shipping options available to you. As you can see, some of the products listed above even have USA shipping, but cost slightly more to purchase per unit.
This presents an enormous advantage, since as a dropshipper, you can ship from both the USA and China to fulfill your orders in the most efficient way possible. Although USA shipping might not always be a good choice due to its greater cost, having the option available can only be seen as a net positive.
If you opt to use USA shipping, this will result in your USA customers receiving 4-7 day order-delivery, which will hugely increase the rate at which customers buy again from your store. On international orders, where you will use ePacket as your standard shipping method, your profit will be higher, and customers will still receive their product in a reasonable timeframe.
Overall, in terms of shipping, we highly recommend choosing a supplier that at least provides ePacket as a shipping option, and USA shipping is a second best. If your product does not have ePacket or USA shipping available on AliExpress, using SaleSource to analyze the product can reveal new and exisitng suppliers that do provide these shipping options.
What AliExpress Supplier Scores Mean, And How To Use Them To Find New Best Sellers
If you've been looking at AliExpress product pages, you'll have noticed that in the Store section, each supplier has a feedback score and an amount of time open. This can provide an extra layer of vetting when picking a supplier, in case you are having trouble deciding.
You are looking for stores that have been in business for longer than 1 year, the longer the better in fact, and stores that have a feedback rating over 95%. Anything from 90-95% is passable, but not ideal, and anything below 90% we would encourage avoiding. Typically, there will be multiple suppliers selling one produc, so you will not have to settle for a mediocre supplier, especially if you use SaleSource to compare all available suppliers.
One thing to look for is stores that have the "Top Brand" tag, while not necessary, this award indicates that a supplier is experienced, has great communication, and will be able to handle a large amount of daily orders, which are all necessary factors for a suitable supplier that can handle your rapidly growing dropshipping business.
In addition to this, once you've chosen your supplier, we would recommend taking a look at their best selling products. Suppliers may also offer some great winning products in your niche that you can also add to your store, we find this to be one of the best product research methods to find additional trending products within a niche, as well as products to upsell / cross-sell.
Price History, Offers & More
It goes without saying, especially if you're fulfilling orders daily, that you want the price of a product to be stable. Not only that, you'll want to purchase the product at its lowest price at any time you can. With the SaleSource Chrome Extension, you can view the history of a products price as far back as 6 months.
In this scenario, we used the SaleSource Chrome Extension to verify that we are now buying at the lowest cost. Buying at the lowest cost helps keep per-sale profits high, allowing you to scale your business more aggressively.
Finding A Factory Sourcing Agent
Once you reach a large number of orders per day, for example, over 100, you may wish to consider switching over to a dedicated sourcing agent, who will find your products and ship them out to your customers from a dedicated fulfillment center.
These suppliers will typically only do business with you once you reach a certain amount of daily orders, but they can offer some great benefits - such as personalised packaging, custom order notes and faster shipping times.
Using sourcing agents is great if most of your sales come from a limited amount of products, however, if you have hundreds of listed products that are all getting sales, you might consider using a more advanced platform, such as Wiio or HyperSku.
These companies use software to run their fulfillment centers and offer one of the most advanced dropshipping services available.
Final Words
AliExpress suppliers compete against each other for your business. They want you to purchase their products, and they want to offer you the best price.
While some suppliers will hike up prices for short term profit, SaleSource allows you to find long term, quality suppliers that lower prices over time as demand increases.