What Is Print On Demand?
These changing times have forced us to look at alternative ways of making a living without having to go out, carry actual inventory, or have a brick and mortar.
E-commerce is becoming more and more the obvious first choice for career shifters or people who'd like to explore side hustles as well as eventual full-time gigs.
And among the various e-commerce options, there has been a steady increase in both awareness and curiosity in the print on demand business model over the past few years.
If you're an artist, an author, or an entrepreneur who wants to know more about this opportunity… You've come to the right place!
In this article, we cover all of the essentials and also offer tips on how to succeed with this business model.
Let's get started with the most basic…
What Does This Busines Model Entail?
The print on demand business model allows you to create and sell your own custom design, white-label products online without having to worry about 1) the actual printing of the products, and 2) shipping out orders. You don't hold inventory either. And while wholesale is an option, most service providers don't require an order minimum making it possible to market to virtually limitless segments.
Printed products can be pretty much anything that's in high demand: T-shirts, hoodies, caps, and leggings to coffee mugs, laptop cases, books, and bags.
How is this possible? Companies that offer print on demand services online act as your suppliers and fulfillment channels at the same time.
Much like your typical dropshipping options, you take care of marketing while suppliers take care of pretty much the rest of the transaction. The only difference is, you create and/or define and then load the available designs to be printed on the products to your chosen print on demand platform.
Here's a typical scenario:
You create a design and load it onto a print on demand service platform;
You market your store or page;
A customer lands on your page and purchases a design/product;
The print on demand service then prints your design on the selected product and ships it to your customer;
You get paid after all expenses after each transaction or each pay period depending on your agreement with the service.
Pretty straightforward despite having several moving parts because you don't have to worry about them.
Interested to try it out yet?
Pros & Cons of This Business Model
As with every new venture you might want to have a stab at, it is very important to weigh some pros and cons so you're able to objectively make decisions and take out the possibility of acting on a gut-feel.
There are advantages and disadvantages to this business model. It could be a solution while it can also be a challenge. Before you dive in, here are some print on demand pros and cons to help you figure out, even at a preliminary level, if this is something you might want to try or not.
Pros of selling products through the print on demand business model
1. Easy to set up. All you need is an account with a supplier or a printing company and some designs to get started. There's not much to it. More on this in the "How can I get started with Print on Demand?" section below.
2. Minimal to practically no inventory management. Your only concern in terms of inventory would be whether your supplier has enough. If you did your homework, though, and are partnered with a reliable supplier, then you should be good to go in this regard. You're never stuck with too much merchandise and never have to worry about stocking costs, warehouse space rentals, and such.
3. R&D to Production happens fairly quickly. The usual process from research and development all the way to actual production typically takes loads of time. This is not the case with the print on demand business model. Do you have an idea? Get it designed and load it onto the print on demand service platform and you've pretty much added a new listing to your product line.
4. No shipping and handling operations. Order fulfillment is all done for you by the supplier. As soon as they receive the order from your customer, they package the product and send it to them directly. Anyone who has even the slightest idea of e-commerce knows that shipping and handling is in itself its own operation. In the case of print on demand, it's not yours to tackle.
5. After all is said and done, payments happen. They just do. You don't have to manage any relationships with multiple payment gateways except your own. And you get paid after every sale knowing most if not all overhead has been taken care of.
What about the cons?
Is there a demand for this business model?
1. Not the biggest of profit margins. While you're not processing a lot of the costs involved in production or manufacturing as well as warehousing and such yourself, it goes without saying that they are factored into the product before it is sold to your customer. Because of this, profit margins in this type of business transaction are much lower compared to when you're purchasing wholesale or, in fact, manufacturing the goods on your end. Bottomline, lower risk means lower reward.
2. Not much say in the customer's journey and experience. Some services allow you to sell off of your own website so in this case there a bit of control to be talked about. But mostly, user experience, the quality of the product, how it's packaged, among other factors are out of your control. If improving branding as well as overall customer satisfaction is important to you, this might not be the business model you might want to run over the long term.
3. Limited control of product line. You won't have much control over the types of products your designs get printed on. Sure, the bigger companies have several product types but not everyone carries all. One company might print on t-shirts but not on scarves, for instance. This is also true on what the products are made of, i.e. ceramic mugs vs glass mugs.
4. Data for decision making is restricted. Although some services provide a bit of data, there's really not much to work with in terms of a deep dive to make some bigger business decisions. For instance, while you'll be in the know when it comes to which product got sold, at what time of the day, and for how much, you most of the time won't have more substantial demographic data like when you're running the whole e-commerce business on platforms you own yourself.
Armed with the pros and cons, perhaps it's time to get our feet wet.
How long before I sell my first product online?
By and large, all you need is an account with a printing provider and a selection of products with your designs on them to sell. Check out the four steps here below:
Choosing your product provider
The best way to choose your print on demand service provider
There are various factors to consider when choosing the best provider.
Are you looking to sell products off of your own website? Then you'll have to choose printing companies that offer integrations with systems such as Shopify, BigCommerce, or WooCommerce.
What's your target geo-location? Some providers ship to almost all countries while a certain number only sells to the US and Canada.
Are the costs involved acceptable to you? Are there monthly subscription costs you need to pay? Does one provider only pay through a gateway that'll cost you more per transaction as opposed to another?
Would you rather work with a provider with an extensive selection of product types or do you prefer those who specialize in certain products?
Overall, what's your vision for your brand and products? Does this or that provider help you fulfill it?
Setting up your business account
What's the best approach for a new ecommerce store?
There's hardly anything else to setting up an account than to get on to the provider's platform and clicking the sign-up button. From there, you are guided through the steps. Just be sure to read terms and conditions thoroughly as this isn't just another account and it could very well be your biggest e-commerce hustle.
Picking your products and uploading your designs
Which product designs are best for a new ecommerce store?
You've done your research and have set up your account with a provider you feel has features that are best for your needs. It's time to pick your products and get your designs onto their platform. Most providers will have a big list of product types to choose from.
As for your designs, you'll either start with a mockup generator or upload your designs using a certain format, all depending on which platform you choose. There are also forms to fill up that'll stretch the options you're able to sell to your customers, e.g. some providers offer embroidery, sublimation printing, among other options.
Marketing and selling your products online
Which products are best for your online store?
More so for marketplace-type print on demand companies, there's an existing amount of traffic going to their sites that you can leverage for sales. However, you also have the option to do a bit more marketing on external channels and then point the traffic to your store or product pages.
Got an email list? Or maybe you have a big following on social sites such as Facebook and Instagram? Are you an influencer with videos on Youtube? Mention that you're selling some print on demand merch and you'll be sure to get more traffic than the average seller.
Which Of The 7 Biggest Ecommerce Printing Companies Are Right For You?
Some of these companies allow you to link their services on your website while others give the option for you to create a page on their marketplace. Here are some of our initial picks for you. If you decide to go with any of these companies here, you should be good to go but remember that there are hundreds more out there.
Printful
Perhaps one of the most popular companies that offers printing services, Printful allows you to create and run your account without sign-up and monthly fees. They also have a mockup generator for you to test designs and activate pretty easily. Want to trial some products? They offer discounts on samples.
Here's a link to a video on how to get started on their platform.
And as you can see here, they can integrate with quite a number of different platforms.
Merch by Amazon
Being on Merch by Amazon platform requires an "application" but anyone who knows the slightest bit about Amazon should have no doubts about the advantages of working with them. Once approved, your designs get sold as actual Amazon items.
You also get the benefit of Prime shipping.
At this point, they're focused on t-shirts.
Lulu Xpress
Interested in selling books? The Lulu Xpress platform might be for you as they offer the largest amount of possible publishing formats out there.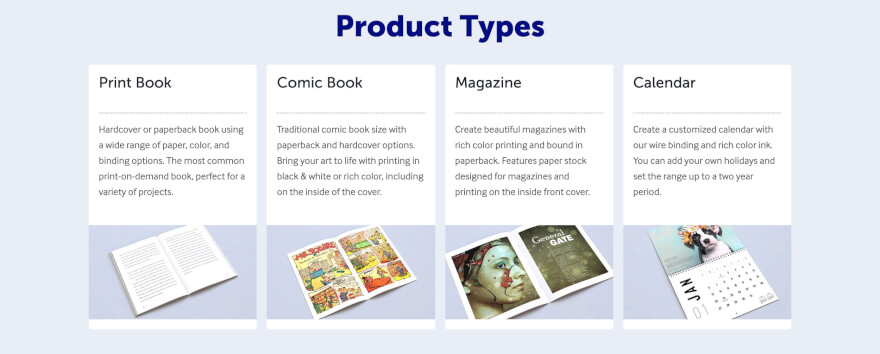 They currently allow you to sell four different product types, i.e. Books, Comics, Magazines, and Calendars.
They have this form here to help you figure out print pricing as well as shipping costs.
A couple of interesting points about Lulu Xpress service are that 1) they offer global fulfillment to over a hundred countries, and 2) defining pricing and printing is pretty seamless and can be done within your very own dashboard.
Zazzle
Zazzle is another big marketplace. They have positioned themselves as the go-to for personalized gifts and decors with custom on demand designs. So if you're a designer who would like to load your custom designs on their platform, there's lots of potential for you to be seen.
Zazzle also offers the option to upload your own products and what's interesting is, there's a third option where you can sell other people's products using your unique link.
There's a 30-day waiting period from threshold before you can withdraw payments but Zazzle's payment system has had the reputation of being one of the smoothest.
Redbubble
Redbubble is another free marketplace that coordinates end to end selling so all you have to do is make awesome designs for the products you select on their site.
Product types range from clothing to stickers, phone cases to wall art, all the way to stationeries and various gift items.
They also make it very easy for artists and entrepreneurs to get up and running and also use their platforms over the long term.
To find out more about Redbubble, click here.
Printify
Printify is a little bit different in that it's not a single print-on-demand provider. Rather, it's a network of printing providers from all over the globe.
However, the process remains the same where you upload your designs thereby creating custom products, you sell them, and they fulfill the orders.
Bigger than usual margins here with just a small caveat, that is, the quality of the products will vary depending on which provider you work with. While it is possible to work with multiple providers at the same time, it'll require additional but one-time setups.
Check out some of their print providers here.
TeeSpring
TeeSpring highlights its apparel line but they offer other product types such as home decor and phone cases. They even have an Athletics section opening up an opportunity to target that very active segment.
Are you an influencer wanting to sell some merch to your followers? Consider Teespring.
Check out this Teespring intro video on Youtube.
Some Tips and Tricks on How to Start Succeeding with This Business Model
1. Always order samples. This accomplishes a few things for you--you get to check the quality of the products, you get to see how your designs appear on the products, and you get a feel for the fulfillment process. Remember that most providers offer discounts to samples.

2. Validate mockups/designs. Most of these providers allow you to create mockups and you can show these to family, friends, and fans. Try to get honest feedback. This way you get a sense of how the market might respond to your designs and the products you plan to sell.

3. Not a designer? A bit of a misconception that the print on demand business model is only for designers or authors. A creative eye can certainly be an advantage but straight-up entrepreneurs who have an idea and the ability to act on it can then hire designers on Upwork, 99designs, and Fiverr.

4. Test pricing. You won't be able to mark up too high if you want to be competitive but you don't necessarily have to price too low as well. Test different margins with 30% to 40% as a possible starting point or standard.

5. Focus on a niche. Start small and get the system running in your favor. When you're confident enough, repeat on a new niche or product line.

6. Exceptional customer service. Find ways to provide the best experience to people who purchase from you. For instance, if you're selling printing products on your own website using an integration with a provider, run a chatbot and load it up with frequently asked questions and answers. Another way you'd be able to go the extra mile for your customers is by asking for feedback after an order is completed.
Is Selling Custom Printing Products Right For You?
If you want to implement a business model that requires very little startup costs and is quicker to set up compared to all the other options available out there, it truly makes sense to give Print on Demand a try.
The hundreds of printing companies offering a huge range of products means it's an e-commerce venture suitable for both novices and veterans alike.
We hope this article provided answers. Is there anything you want us to cover in the future? Let us know in the comments!