It's Official, These Are The Top Shopify Dropshipping Stores Of All Time
When looking at the Top 10 companies in any field we see examples of the incredible things that are possible with a certain business model. The top 10 dropshipping stores are no different, this varied list showcases stores that started from nothing and scaled into multi-million dollar brands in less than a year, stores that have turned small passions into business empires and established websites that having been dropshipping for almost a decade.
What makes Shopify stores so enticing?
These top Shopify businesses show that the dreams of dropshipping success are still possible, because it wasn't that long ago that many of these brands didn't exist and now they are some of the most successful shopify stores out there. All the below stores are hosted on the Shopify platform - as are most successful dropshipping stores.
1)Inspire Uplift
InspireUplift has been one of the top Shopify stores for a long period of time. In fact, they might be one of the best dropshipping websites on the planet! Starting off in 2015 under the name "Hype Dojo" and rebranding as "InspireUplift" in 2017, they have been succeeding in the dropshipping general store business model for almost 5 years.
InspireUplift is certainly one of the top grossing Shopify stores on this list. Their achievement has been incredible, the USA based company has scaled their business to an estimated $4,794,033 - $9,588,065 per month by selling cool and useful problem solving gadgets with a primary target audience of women - as indicated by their best selling products.
Products and Niche
InspireUplift is a general store with over 700 products, their typical product is a problem solving gadget that solves an issue in a novel way, for example, the ponytail beanie, which allows concealment of messy hair with with a beanie whilst still allowing hair to fall out the back.
InspireUplifts product listings have excellent photographs, some taken by professional photographers and some simply taken from AliExpress product listings.
Almost all of their products have well selected product reviews and even sometimes in house product videos made for them.
InspireUplift keep product prices cheap, relying on a high volume of purchase to keep profits up. InspireUplift seem to value getting new customers more than making a high profit on each sale, a strategy which top stores can afford to employ.
Store Design and Apps
InspireUplift uses the Kagami Theme with custom modified product pages that are designed to resemble Amazon.com. Their product page style is simple, yet effective - highlighted in red, we can see the use of social proof, showing their Facebook Page with its real 6 million likes.
The Not sold in stores text also boosts conversions by implying that online, specifically the current website is the only place you can get these products.
Inspire Uplift reviews are stellar. Theyt have chosen to display their best customer reviews, which can be seen below the product description area. This is an excellent way to communicate social proof to your customers and we highly encourage the use a product reviews app in order to boost customer trust and conversions - in this case InspireUplift is using a Shpoify app called Loox Product reviews.
Marketing
InspireUplift mainly use Pinterest and Facebook marketing to advertise their products. Using SimilarWeb Traffic Breakdown, we can see that recently they've been leveraging the Pinterest social channel for traffic.
They have over 2.4 million followers on Pinterest and 6 million likes on Facebook. Many of their Pinterest posts end up going viral with only a little push from paid traffic needed.
Overview
Pros
Amazing product selection with problem solving gadgets mainly targeted towards women
Creative use of Pinterest and Facebook for social marketing to create viral, shareable content featuring products
In house product videos, product photos and product descriptions to maximise quality of marketing materials
Many rewards & loyalty apps, tastefully done, to boost conversions and increase customer lifetime value
High converting Amazon-style product pages with plenty of added social proof and reviews
Cons
Not a great example for beginner dropshippers - 5 years of hard work has gone into the store, hard to replicate in a short period of time
For more info about Inspire Uplift click here
2)HYGO Shop
HygoShop is one of those Shopify stores that was successful from the very beggining. Launched in December 2017 and is a general dropshipping store that has scaled in 2 years to an incredible estimated $2,431,747 to $4,863,494 per month. With a main focus on novel problem solving gadgets that appeal to all, HygoShop has handily secured second place in this ranking.
Products and Niche
HygoShop is a general store with over 1600 products listed. HygoShops best sellers include the Quick Makeup Bag, an excellent bag for quickly storing and retrieving makeup, the Mystical Moon Lamp, an extremely popular dropshipping product and the world scratch map, a product that went viral on Facebook after a video marketing campaign.
HygoShop uploads a staggering amount of new products every single week, constantly testing to see if they can find new best sellers, which makes it one of the best dropshipping websites on this list. They also make their own in house product videos for almost every product to showcase features and benefits and build customer trust.
Store Design and Apps
When it comes to store design and apps HygoShop is definitely one of the top Shopify stores. They have opted for a relatively simple product page design. To incentivize buying more than one unit, HygoShop gives discounts known as quantity breaks for multiple item purchases - a great tactic to increase overall average order value and boost profit.
HygoShop also uses many conversion & revenue bosting apps on their store, such as Loox Product Reviews for social proof and CodeBlackBelt Frequently Bought Together to increase average order value. Another thing worth noting is that HygoShop developed a strong relationship with their US suppliers, which allowed them to grow rapidly in the US market.
HygoShop does remarketing and loyalty using Klaviyo for email marketing and ReConvert to bring back customers who added to cart but did not buy - this works great, as HygoShops current main marketing channel is Facebook.
Marketing
HygoShop is one of those successful stores that primarily focus on Facebook marketing. Using SimilarWeb, we can estimate that over 70% of HygoShops traffic comes from Facebook. HygoShop makes extremely high quality, viral in house product videos with their logo stamped all over. They post these videos as Facebook Ads and on their YouTube channel.
Their product videos are a perfect example of how to create dropshipping ads correctly and how to leverage Facebook for viral engagement. HygoShop currently has over 160,000 likes on Facebook.
HygoShops YouTube channel has proven to be successful in driving large amounts of high converting traffic from their YouTube ads. We that expect HygoShop will expand YouTube marketing efforts in 2020.
Overview
Pros
Creative & clever product selection with over 1600 products - many best sellers found by constantly testing new products
Optimal use of viral video ads with well made in house product videos
Simple yet effective website design without any distasteful scarcity tactics
Effective remarketing that leverages Facebook with Reconvert and Klaviyo for email marketing
Easy to understand branding as a "gift shop that stocks cool products"
Cons
Does not leverage up and coming social channels such as Reddit, Pinterest & TikTok to expand customer base
For more info about HYGO Shop click here
3)Odditymall
OddityMall is one of the original dropshipping stores & blogs - having been open for over 7 years, making it one of the most successful Shopify stores on this list. They started their ecommerce empire in 2013 and have since grown into a company making an estimated $1,100,000 - $2,350,000 per month on their dropshipping store alone ( their blog, odditymall.com, is also monetized by affiliate links).
OddityMall has one of the biggest product backlogs of any dropshipper that we know of, and suprisingly, most of their best sellers were uploaded this year. OddityMall also has one of the largest dropshipping Facebook pages, with over 2.8 million likes.
OddityMall are a unique dropshipping business in that they also leverage their huge traffic to sell Amazon and AliExpress products using affiliate links on their blog, odditymall.com. This hybrid model allows for greater profits to be made from the Amazon Affiliates program while still generating large amounts of revenue through dropshipping.
Products featured for sale with affiliate links are typically either too expensive to dropship or too hard to market, meaning that OddityMall have successfully found a way to profit off of almost any viable product listed on an ecommerce website. This creative marketing tactic is certainly under-utilised and we'd love to see more stores leverage a tactic like this to maximise revenue.
Products and Niche
OddityMalls best sellers are filled with novelty gadgets and toys, with some problems solving products mixed in. This is a refreshing angle on the general store formula, and includes products such as the Squishy Puking Egg Yolk - a cheap, yet cheerful best seller that pukes when tapped on to alleviate stress.
The theme of quirky, funny gifts is present throughout OddityMalls store, most products have a novelty factor to them. Despite this, OddityMall does have some problem solving best sellers, with the Unique Silicone Flower vase and Watermelon Slicer.
It is worth noting that OddityMalls products are sold for a very cheap price - with low markups to incentivize higher sales volume and earn more new customers. OddityMall can afford to have such low product prices as they rely on mainly organic, not paid traffic.
OddityMall also make their own in house product videos, which while not as good as InspireUplifts or HygoShops videos, serve to advertise product features in an engaging and informative way.
Store Design and Apps
OddityMall has one of the simplest store designs of any of the top stores. They have product gifs in their description, a product video and some basic conversion improving tactics - long, well written descriptions and limited stock indicators.
The cheap cost of most of their products means that they do not have to overly-market on their product pages, being able to instead rely on images, descriptions and product videos to close the sale.
It just goes to show that even the most basic product pages can drive sales when product selection, product price and marketing are done correctly.
Marketing
Unsurprisingly, OddityMall has the majority of their traffic coming from Facebook and YouTube. Since OddityMalls main traffic channel since 2013 has been Facebook - we believe that a good amount of their traffic from this marketing channel is organic as opposed to just being paid traffic.
With over 2.8 million Facebook likes, OddityMall have been able to establish themselves as one of the best places online to find and learn about interesting gadgets and gifts.
Overview
Pros
Creative monetization strategy - leveraging affiliate marketing from Amazon & AliExpress as well as the dropship business model
Creation of blog style site results in large amounts of organic traffic, increasing overall ROI and profit
Thousands of cheap to buy viral winning products that sell in high volume
Effective marketing efforts on Facebook with in house product videos & 7 years of building a community
Cons
Hard to replicate for most dropshippers - 7 years of brand building and two different websites - one store and one blog
For more info about Odditymall click here
4)Indestructible Shoes
Indestructible Shoes is the first niche store in the list so far - having shot their way up to the top after creating one of the most viral dropshipping Facebook ad campaigns ever. Scaling to an estimated $1,000,000 - $1,958,880 per month in less than a year, they are undoubtedly one of the most impressive dropshipping success stories.
They started off as a one product shopify store and have grown their collection ever since.
Products and Niche
Indestructible Shoes is a niche store that, you guessed it, sells shoes that are "indestructible". Their shoes claim to be military grade puncture resistant, steel toed, flexible, light and much more.
As is the case with the vast majority of the top Shopify stores - most of their products can be found on AliExpress, where they sell for approximately half the list price. However, some recent additions seem to be wholesale black label purchases, with Indestructible Shoes attempting to transition into a more traditional brand private label business model.
Another factor to their credit, IndestructibleShoes offer a sizeable discount compared to the retail price of a normal sneaker and also offer a very wide range of shoe sizes per product, increasing the appeal of their IndestructibleShoes to the widest audience possible.
Store Design and Apps
IndestructibleShoes have a branded store design using a modified version of the Turbo Theme. Their store style fits perfectly with the products they are selling, featuring a clean, professional looking sneaker store style design.
They have opted to include a review quote beneath their product titles for social proof - review quotes are an excellent way to promote a feature or aspect of your product without coming across as marketing too strongly.
The best part, however, of IndestructibleShoes' product page is the custom built "features" section, where all the products capabilities are explored with accompanying pictures.
This section, combined with the reviews and available product videos, is instrumental in selling the shoes to an uninformed buyer. Although a section such as this may require custom code, we believe creating a features section like this is one of the best ways to boost product page conversions.
Another factor worth mentioning is that IndestructibleShoes have trademarked their brand name and claim they will be filing suit against other businesses dropshipping their trademarked shoes.
Though we are not sure about how successful these proceedings will be, it is worth noting that a powerful trademark can lower competition and help your brand flourish in the long run.
Marketing
Unsurprisingly, IndestructibleShoes is one of those Shopify stores that gets most of their traffic from Facebook - where they succesfully launched their initial viral marketing campaigns.
Featuring videos of setting the shoes on fire, using angle grinders to try cut open the shoes, stepping on nails, running the shoes over with a car - they have built an audience of over 70,000 followers.
Having a great product and creative viral marketing, IndestructibleShoes have catapulted themselves to the Number 4 position on the top dropshipping stores list in less than a year.
Overview
Pros
Useful product that solves many problems and is highly suitable for viral marketing
Built-to-convert product videos and marketing materials for each shoe
Cheap product price compared to normal, non-indestructible shoes - greater perceived value
Solid branding & brand protection using trademarks
Tailor made site that leverages customer reviews, social proof and custom code (features section) to sell
Cons
Only selling shoes mainly targeted towards Men makes further expansion difficult
For more info about Indestructible Shoes click here
By the way, if you're interested in learning one of the best ways of finding winning, unsaturated dropshipping products to sell in your ecommerce store, check out our article on AliExpress Dropshipping Center.
5)Men's Luxury Boutique
The second niche store in our Top Ten list, MensLuxuryBoutique, sell unique Mens Sneakers and other menswear from AliExpress. A surprising addition to the list, MensLuxuryBoutique have managed to capitalise on the huge sneaker trend and from 2018 to 2019 grew their business to an estimated $730,000 - $1,465,306 per month.
Products and Niche
Most of MensLuxuryBoutique's best sellers are sneakers. In fact, most of their products are sneakers. They have chosen sneakers available on AliExpress that have a unique silhouette and feature almost all their products on a white background to give the store a sense of branding and authenticity.
All successful stores on this list have a ton of products. One thing to note is the sheer volume of sneakers on the MensLuxuryBoutique website. They have listed over 500 products, giving them far higher chance of finding a winning or best seller.
For a "Luxury Boutique", the prices are certainly quite low, with markups in the 3x region. This, again, likely contributes to a high sales volume as opposed to a true branded luxury store with a lower total sales, more expensive products & higher profit.
MensLuxuryBoutique have capitalised on the rising interest in sneakers and sneaker culture. Thanks to YouTube, Instagram and several high profile shoe collaborations, search interest in sneakers has doubled since 2014.
Store Design and Apps
MensLuxuryBoutique use free Shopify Theme Brooklyn, which is a highly mobile optimized theme. Their product pages include a lot of product images and make use of Trust Badges and a sliding description that includes all the essential epacket shipping, site and product information.
We believe that the main selling tactic here is the sneakers themselves, in this scenario it is a case of "Do you like these sneakers? Is the price reasonable?" and if the answer is yes to both questions, then people end up buying these sneakers, mainly for their unique silhouettes.
The site is set up as though it is the only place to buy these sneakers, which prevents customers from searching elsewhere - for example in the case of Nike and Adidas shoes, particularly for the limited edition ones, you have to use automated tools to win limited sneakers from retail websites. There are thousands of alternative retailers and stockists and no reason to buy from any particular store besides minor price fluctuations.
There is no indication on the store that the sneakers originate from China or any mention of AliExpress or other retailers - the customers are led to believe MensLuxuryBoutique are the sole manufacturers and stockists of these sneakers.
Marketing
MensLuxuryBoutique get most, if not all, of their traffic through Facebook Advertising. They have amassed over 60,000 legitimate Facebook followers through display and video ads of their sneakers. MensLuxuryBoutique also use Facebook Messenger ads and mainly target mobile traffic for their store.
Overview
Pros
Hundreds of products in the same niche listed which exponentially increases chance of finding best sellers
Clever branding to make it seem like sneakers can only be bought on their site (removal of background on main product photo)
Riding the wave of the recent sneaker trend
Mobile optimised product pages with plenty of pictures and product information
Cons
Marketing efforts & branding could be better
For more info about Men's Luxury Boutique click here
6)Motrendy
MoTrendy is one of those successful Shopify stores with that is a classic gadget store focusing on problem solving products with viral potential. In just over a year, they've scaled to an estimated $600,000 - $1,217,582 per month. MoTrendy specialise in product gifs, editing together viral videos and constantly upload new products to test and scale.
Products and Niche
MoTrendy is a Shopify store with over 600 products listed across 7 main product categories: Pets, Tools, Kitchen, Smart Home, Car Accessories, Toys and Outdoors. This has given them an overwhelmingly high chance of finding products that sell. Most of MoTrendy's products are well marketed with custom product thumbnails, detailed product descriptions and cheap prices.
MoTrendy is a store that showcases the "More is better" style of dropshipping, wherein a large volume of products are tested and sold to make up the majority of sales volume, through using retail POS software We estimate that MoTrendy's top 100 products account for 80% of their sales volume.
Store Design and Apps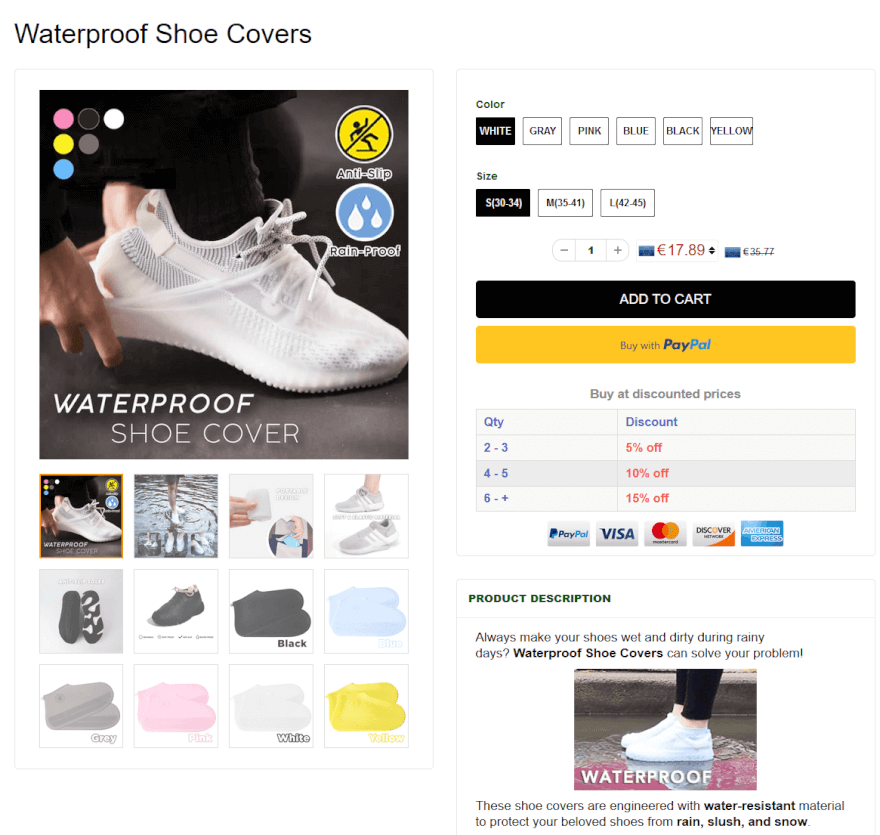 Though we are not personally fans of MoTrendy's product page and store design, we can appreciate that it works well to convert customers.
The large buttons, product gifs and informative descriptions help to boost product page conversion rates. Average order value is boosted by discounts for buying multiple units of a product and trust badges help customers move through to the next stage of the sales funnel.
Marketing
As is evident, an overwhelming amount of MoTrendy's traffic is from Facebook. Facebook Ads are the main way that MoTrendy will drive traffic to their products, creating separate Facebook pages that deal with a specific niche, for example home & garden gadgets and then uploading their video ads there.
Overview
Pros
Over 600 problem solving products listed with more added daily
Creative product gifs, informative descriptions boost product page conversion rate
Smart use of Facebook marketing & expertly made loyalty remarketing campaigns to maximise customer lifetime value
Cons
Poor site design and branding
For more info about Motrendy click here
7)Warmly
WarmlyDecor is a niche dropshipping store and quite unique in the sense that they sell furniture and decor from AliExpress. Warmly have found success in dropshipping mid ticket to high ticket decor products. Founded just over a year ago, they've now scaled to an impressive $566,343 - $1,132,686 per month.
Products and Niche
The beauty of WarmlyDecors products is that they do not seem like typical dropshipping products, which makes them on of the top Shopify stores on this list. They are high quality, well designed and beautifully branded. WarmlyDecors best sellers are mainly lighting products, ranging from ceiling lights to portable lanterns - as well as assorted home accessories such as plant holders, faucets and tapestries.
WarmlyDecor have capitalised on the trend of buying decor online - which has seen search interest increase by more than double since 2014.
Store Design and Apps
WarmlyDecor uses a custom version of the default Brooklyn Theme. Due to numerous custom code changes, WarmlyDecor has our favourite website design in this Top Ten list. Not only does the branding and store image come across as reputable and professional, but the image quality and image selection is also stellar.
Warmly use a sale end timer, trust badges and a detailed, bullet point oriented product description to boost their product page conversion rate. The key takeaway is that Warmly's branding and store design is tailor made to sell expensive decor products.
Marketing
The majority of WarmlyDecor's traffic comes from running ads on Pinterest, a website which is perfect to advertise decor on. The average Pinterest user has an income of over $100,000 and furniture and decor is a huge "pinterest" with millions of followers.
WarmlyDecor have over 27,000 Pinterest followers and receive over 10,000,000 monthly views across all of their pins.
Overview
Pros
Underused dropshipping niche with great product selection
Expensive products allowing for greater ad spend per product and less sales needed to scale
Beautiful website & perfect branding for market segment
Leveraging Pinterest for paid and organic traffic
Cons
Doesn't leverage Instagram or YouTube marketing, both great platforms for home decor
For more info about Warmly click here
Recommended:Shopify Pricing Plans Made Easy: Which Plan Is Right For You?
8)NotebookTherapy
NotebookTherapy is yet another unique niche store to make the top ten. Selling cute, Japanese-inspired stationary, notebooks, gadgets and backpacks they've scaled to an estimated $351,804 - $702,168 per month in just over 2 years.
Products and Niche
NotebookTherapy sells Asian-inspired stationery and accessories, which is boosted by the huge rise in interest in Asian culture.
Their products range from simple bags, to pencil cases, notebooks, pens and phone cases. They mostly sell products targeted towards women.
Store Design and Apps
In terms of Store Design, NotebookTherapy is right up there with WarmlyDecor - their store design is perfect for the products they're selling. They've used bright colors plentifully across their website and their products are presented in a beautiful, clean and stylish custom theme.
It is worth noting that NotebookTherapy use a wide range of apps to boost sales, such as Justuno for custom email popups and customer CRO, quantity breaks to provide discounts for buyers who buy more than one unit of a product, Marsello for their custom loyalty programs and Klaviyo for email marketing.
Marketing
NotebookTherapy has a fairly even split between paid Facebook traffic and organic traffic from YouTube and Instagram. NotebookTherapy have over 900,000 Instagram followers which provide a strong customer base for recurring sales.
NotebookTherapy's combination of paid ads, influencer marketing and social media marketing have helped catapult the brand onto the top 10 dropshiping stores. Also, NotebookTherapy went all out on picking one of the biggest drop shipping company as it's supplier - Oberlo.
Overview
Pros
Incredible branding with an excellent, unique looking custom theme
Clever use of social media marketing, influencer marketing and paid ads together
Great products for target audience
Excellent reward and loyalty programs powered by email marketing for recurring customers
Cons
Narrow market segment makes expansion difficult
For more info about Notebook Therapy click here
9)Shopreview
ShopReviewCo is yet another fine addition to the general Shopify stores of this list, having scaled to $366,000 - $720,000 in estimated monthly revenue in just over 2 years.
Products and Niche
Similar to MoTrendy, ShopReview is a general store that uploads a high volume of problem solving gadgets and gifts every day. With over 696 products in a myriad of different niches, ShopReview has one of the most diverse product ranges of any store in the top 10.
ShopReview are fond of editing AliExpress product images to add extra flair or explanation text, as well as product gifs to showcase product functionality.
Store Design and Apps
As previously mentioned, ShopReview are fond of adding text overlays to their images to explain the product functions further. In addition to this, they have several commonly used tactics in place to boost conversions, such as trust badges, scarcity countdown timers, sold in the last hour indicators, quantity breaks and much more. While we would say that this is a bit excessive, we acknowledge that these tactics work.
ShopReview have minimal apps on their store when it comes to marketing - having only Klaviyo for email marketing and ReCart for retargeting customers who added to cart but did not convert.
Marketing
ShopReview mainly get their traffic from paid Facebook Ads and Pinterest Ads, however they do also run a successful blog that reviews all the products on their website, which drives extra targeted traffic to their product pages.
Overview
Pros
Over 700 problem solving products listed with more added daily
Heavy attention to detail per product - each product has custom marketing images and possibly gifs to accompany
Use of blog for extra organic traffic boosts profit and sales.
Cons
Too many fake scarcity popups and countdown timers

For more info about Shopreview click here

10)AESTHENTIALS

Aesthentials, previously known as SoAestheticShop, is our second clothing store in the top ten, with a focus on interesting streetwear targeted at a younger female audience.

Their clothing ranges ranges from hip and edgy to normal womenswear and has allowed them to become one of the top grossing Shopify stores with an estimated $331,335 - $662,670 per month in just over 3 years. Having now rebranded as Aesthentials for 7 months, they are dominating the streetwear dropshipping niche.

Products and Niche

Aesthentials sell edgy and hip streetwear to a younger female audience. In recent years, they've began to do their own product photography to match their store's style. Custom product photography is highly recommended from a branding perspective - as it adds an "you can only buy this product here" element to your website.

Aesthentials also have over 1000 products listed, giving them ample room to find best sellers among their large product catalogue.

Store Design and Apps

unique Shopify store designs of any store we've seen so far. Their entire store is made with custom CSS, filled with pastel colors and aesthetically pleasing gradients.

The store design is perfect for Aesthentials target market, and we believe it contributes largely to their success as a memorable streetwear dropshiping brand.

Marketing

For a dropshipping store, Aesthentials have a very interesting traffic channels. Most of their traffic comes from YouTube influencers, to whom Aesthentials have been sending their clothing since 2017!

This is hugely beneficial for Aesthentials, as the exposure is worth a lot of money to them, however Aesthentials only have to pay cost price for the clothing that they send to these influencers, which we assume ends up being less than $100 per influencer.

Aesthentials still run paid traffic advertising on Facebook and Instagram, however most of their traffic is organic and brand based.

Overview

Pros

Incredible website that matches the "brand aesthetic" perfectly
1,000+ niche targeted products - huge selection leads to increased sales and more best sellers found
Influencer marketing tactics tailored to brand and highly cost effective
Great custom product photography that builds customer trust

Cons

Could increase revenue dramatically by marketing on Pinterest

For more info about AESTHENTIALS click here

Recommended:What Are The Best Shopify Alternatives For Your Online Store?

Which Dropshipping Store Is The Best One On This List?

Dropshipping is one of the best business models to rapidly scale an online store and turn it into a reputable brand. In this article, we have explored ten top dropshipping stores that showcase how powerful the dropship business model can be, and that breakout success is absolutely possible.

These top businesses show that with a strong ecommerce marketing strategy, the dreams of dropshipping success are still possible, because it wasn't that long ago that many of these brands didn't exist.

In order to succeed, model the success of these top dropshipping stores and avoid the mistakes made by stores that have failed, in doing so you will carve the path towards a profitable online business.