How To Find Product Videos For Dropshipping Facebook Ads In 2020
If you've heard the saying "Content Is King", then video content is the "King of Kings". Video is by far the most engaging and effective way to present a product to your audience. According to consumer group Which?, over 90% of customers say watching video helps inform their purchase decisions.
The statistics don't lie - we used SaleSource to analyze over 12,000 best selling products & the Facebook ads that helped sell them. In the staggering results, 88% of best selling products were marketed by video ads and just 12% were marketed by single image advertisements. In order to compete with other dropshippers in 2020, you must market your product with video content.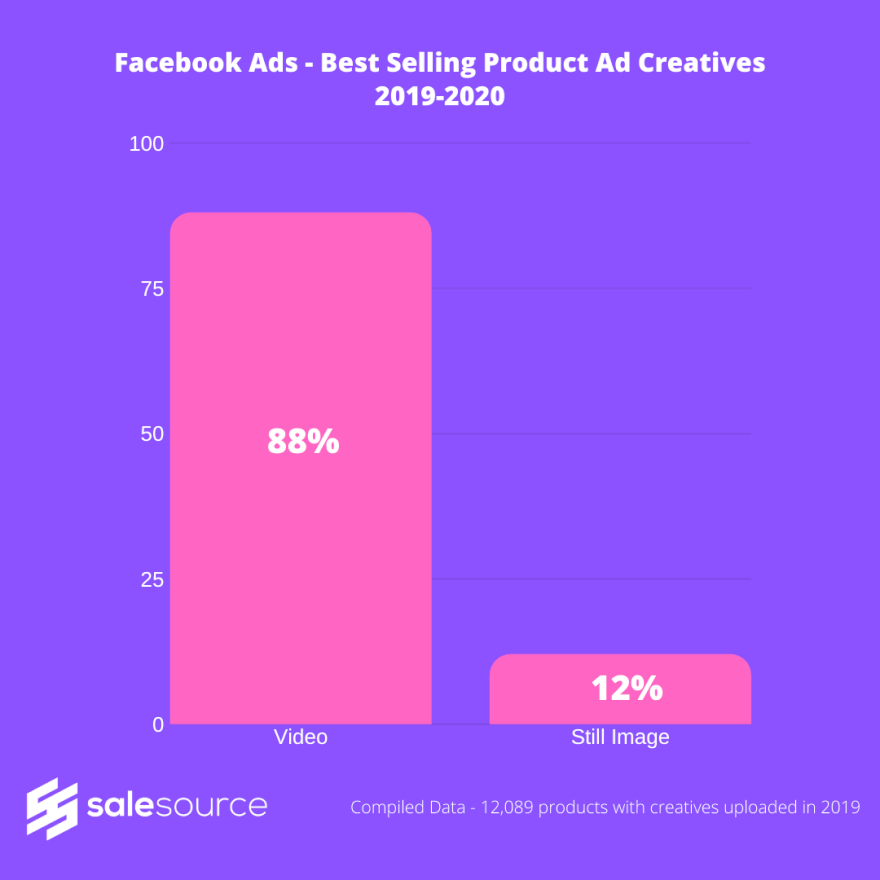 One of the most common reactions to learning about the importance of video marketing is: "I don't have the skills or equipment to produce video content". Luckily, when creating dropshipping video content, you might not always need to get your camera out and start filming.
Many suppliers will provide pre-made video content for your product, ready to be edited and packaged into a suitable video ad. In addition, there may be YouTubers and influencers who have already recorded suitable footage of the product, and you can simply ask for their permission to use the clip in your video ad.
Finding / Creating Video Content For Your Product
When it comes to dropshipping product videos, there are generally three options available. One would be to order the product yourself and film it with your own camera. The next option is to send your product to a specialised dropshipping product video team, who will record & edit footage of the product for a fee. The final option is to use footage that is already provided by your supplier or an influencer, which is the most common, least costly and quickest option by far.
Finding Video Content For Your Product
If you have a specific product you want to find video content for, searching for the appropriate footage can take hours when done manually. SaleSource's automated product video finder however, allows you to find product videos in seconds. It works with any AliExpress Product Page, Shopify Product Page or product image. The automated product video finder is designed to find all available product footage, which you can then edit together into a viral video ad.
In the example above, over 10 product videos were found from different suppliers. Each product video was completely unique. We found the 3D animation footage provided by a supplier to be particularly eye catching and professional.
As these product videos are sourced from suppliers, it's highly likely that you can use these to make your own viral video ad. Suppliers are trying to help you sell more of their product after all. However, if you want to make sure that you can make use of the video, we would recommend contacting the supplier and asking for permission.
Another quick and easy way to find videos of your product is to use SaleSource's product video finder, which allows you to search the entire Internet for relevant product footage .
We would recommend asking for permission before using clips from these videos, as they do not originate from suppliers. Most uploaders will be happy to give you permission to use their clips, for free or a for a small fee - it's always good to ask.
You can also use SaleSource to search for products that already have videos available from suppliers. SaleSource's niche search allows you to pinpoint the exact products in your niche that come with videos.
In the above example, we are exclusively looking at products that have videos available in the Womens Jackets product category. We could narrow this down even further to faux fur womens jackets with videos available.
This is one of the best ways to find trending products to sell, as you will find items in your exact niche and then validate the quality & features of the products by watching the provided videos.
Read Also:An Ultimate Guide to Retail Arbitrage For Complete Beginners
Creating Your Own Video Content
Creating your own video footage from scratch is the best way to create a product video for dropshipping. However, it is not without its disadvantages. Some of the top dropshipping stores create custom, in-house videos for each product they sell, however these are companies that have the skills and experience to do so.
If you are an accustomed videographer, or simply cannot find any footage for your product with which to create a video, we would recommend you order the product and create your own. In any other case, you may want to consider some of the other options outlined in this article. Below are the Pros and Cons of creating your own video:
Pros:
Boost brand trust & legitimacy with authentic, high quality footage
Huge competitive advantage versus other dropshippers who do not have custom footage
Addition of brand logo watermark prevents theft of your footage and spreads your brand name
Full control over video creation process, product look & more
Ability to create new product footage at any time
Cons:
Long turnaround time
Requires specialised equipment & lighting when done properly
Requires skill & knowledge regarding product videography
Can be expensive if you have to purchase equipment
Have to purchase the product and wait for shipping
Recommended:It's Official - These Are The Best Selling Items on eBay In 2020
Outsourcing Product Video Creation
If you do not have the equipment or skills to create product videos yourself, you can outsource your product video creation to one of many services who will film your product and create a dropshipping product video.
While not as time consuming as creating the product video yourself, outsourcing your product video creation can be also take a long time and be expensive, as the product needs to arrive at the product video companies offices before the video creator can begin recording footage. In addition, your video may not always turn out the way you want, which can end up costing extra time and money if the product video company has to re-shoot footage.
Pros:
Videos created by trained professionals with high quality equipment
Editing and captions done for you
Saves time versus recording & editing video yourself
Custom footage of product that no other brand has
Cons:
Expensive
Long turnaround time
Cannot make significant changes once filming is done
Possibility for communication issues and disatisfaction
Have to purchase the product and wait for shipping to product video creator
5 Things To Know Before Creating A Dropshipping Product Video
1) Tailor Video To The Target Audience & Platform
Facebook, Instagram and YouTube are the main platforms you are likely to be uploaded your video ad to. For Facebook & Instagram content, you'll want your video resolution to be 1080x1080 - a square aspect ratio, so keep that in mind while filming your product. For YouTube videos , your video resolution will have to be 1920x1080, a 16:9 aspect ratio.
YouTube Video Ads demand much greater quality than Facebook Ads. Since videos are native to the YouTube platform, the standard for a video ad is much higher than on Facebook & Instagram. In addition to this, YouTube ads can only be skipped after the first 5 seconds of footage has played, this is where you'll want to capture the users attention to prevent them from skipping the rest of your ad.
If you're making ads for Facebook, bear in mind that 85% of Facebook users watch their videos muted, so captions on screen are a necessity.
2) Create The Right Type of Video
There are many different product video types that can convert well. It's not always time efficient to create a full 1-2 minute product video explainer ad. Here are a few different styles for you to consider:
Product demonstration videos
Slideshow style videos (still images displayed one after another)
Product review videos - showing a customer unboxing & trying the product
Short, looping videos (gifs)
Live video demos - on Instagram / Facebook Live
You will want to choose the right type of video for your audience - for example, beauty products tend to perform better when advertised through a narrative review format - typically with a video created by a beauty influencer. Short, looping videos perform better when showcasing dropshipping gadgets.
3) Use The Right Video Editing Software
Using a video editing software that you feel comfortable with is key to enjoying the video creation process from start to finish. Free video editing software like Da Vinci Resolve can provide movie-grade production capability, but has a steep learning curve for beginners.
Paid video editing software like Animoto is web based and easy to use, but comes at a price and does not offer complete control like Resolve. Below we will list several video editing software to help you on your dropshipping journey.
OpenShot
Free
Desktop Based (requires download)
Works on Windows, Linux and Mac
Has full basic editing capability
Lacks advanced features
Da Vinci Resolve
Free
Desktop Based (requires download)
Movie grade editing capability and advanced features
Wide range of tutorials available
Can be difficult to use and confusing for beginners
Animoto
Paid
Web Based
Provides great templates & royalty free music
Very easy to use
Doesn't allow full control over video creation
Adobe Premiere Pro
Paid
Desktop Based (Requires download)
Full enterprise level video editing capability
Easy to learn if familiar with other Adobe Products
4) Follow These Video Best Practices
When creating a dropshipping video ad, there are certain recurring practices it is best to adhere to. Follow these tips to create ideal, high converting dropshipping ads:
Speed up long sections (fast forward style) - looks professional & saves customer time, preventing boredom and increasing engagement
Hook users in with a flashy or unexpected intro
Use captions, graphics and diagrams to enhance customer understanding of the product
Put a branded watermark on the video - if customers leave early they will still be aware of your brand
Present a problem, then show how your product fixes the problem in a narrative format
Plan videos out with a storyboard before filming
5) Identify Your Goal
Every decision you make regarding your video should be filtered through your goal. If your goal is to get more brand awareness, you should make sure your logo is visible for the entire length of the video - as a watermark or else.
If your goal is to make sales, have a call to action in your video telling the customer to buy now or that your product is in limited stock. If you're creating a remarketing ad for customers who've already visited your site, you can mention this fact in the video to make it more personalised towards your audience.
Final Words
In order to be a competitive brand in 2020, your brand must leverage the power of video marketing, especially when competing in the realm of Facebook and YouTube ads. Building the skills and infrastructure to create amazing product videos is one of the greatest marketing assets to have and we hope you use the tips within this article to use video to increase sales, boost your brand and inform your customers.