Etsy vs eBay: Battle of the Best E-commerce Marketplaces
In this article, we talk about Etsy vs eBay. Pros and Cons. Major differences and similarities. For all other articles to help you win in dropshipping and e-commerce in general, check out our blog.
Etsy vs eBay
Are you running e-commerce operations on your website and feel it might be time to expand and see about other sources of awareness and sales for your products?
Do you have a brick-and-mortar where you sell your wares and you know for sure you have to make that e-commerce leap but not quite ready to go full-blast with your own website?
There's Amazon. There's eBay. And there's Etsy.
We get a good number of queries from clients and community members around Etsy vs eBay so we figured we'd get an overview into a blog post. So here it is.
We'll cover areas that matter to novice and experienced e-commerce business owners alike. What each platform is known for, what kinds of shoppers are in there, and what might be the better option for you.
Etsy vs eBay: What product categories and users are they known for?
The most significant contrasts between these two platforms are what they are known for in terms of products sold. Different products mean different audiences and buyer traffic. So consider this when choosing whether to list your products on Etsy or on eBay.
Let's take a look at what product types are sold on each platform based on the audiences they attract.
Etsy Product Types and Audience Base
Since its launch and initial growth in the mid to late 2000s, Etsy has been known as the creative marketplace. Brands and individual manufacturers continue to this day to flock to Etsy to sell handmade, vintage, and craft products. Sometimes exclusively, and sometimes while also selling on eBay or their own websites.
While considerably smaller compared to eBay, the users that are on Etsy are generally more targetted and their behavior is, in theory, easier to predict. You can expect traffic from people who give higher emphasis on quality, people who look for artisanal and one-of-a-kind type of goods.
The more popular items sold on Etsy are jewelry, wedding items, vintage items, home & living products, as well as art & collectibles.
eBay Product Types and Audience Base
eBay is one of the pioneer players in massive scale e-commerce. As such, it has over a couple of decades hence, it has grown into a marketplace that offers virtually anything you can think of. Even, at that, products sold on Etsy.
But unlike on Etsy where customers mostly don't mind shelling more $$$ for quality, on eBay, it's predominantly about grabbing bargain deals.
What's more is, eBay attracts sellers of mass-produced items. Successful sellers of these types of products know that competition might be a bit high and so strategize around that fact.
eBay products range from antiques to electronics, books, apparel, tech accessories, as well as any old or new items. You can list these as auctions or define fixed prices.
If your product line can compete for a piece of the pie in a mammoth marketplace; if your inventory can hold up against successful bursts of sales; if your listings might fall under several categories; consider eBay.
Etsy vs eBay: Seller fees and shipping options
Both platforms, Etsy and eBay, provide hefty shipping and fulfillment help files and FAQs for sellers. There are shipping tools, as well, to make computations and actual shipments as hassle-free as possible. This is to say, both companies have taken special pains to make sure this part of your e-commerce equation doesn't cost you too much time and effort.
It's important to note though that because of the high level of competition on eBay, and to be quite honest in some specific categories and product types in Etsy, some sellers offer free shipping or strategically just include shipping into their product pricing.
Etsy offers shipping tools like shipping labels, calculated shipping, and shipment tracking. And fulfillment generally goes through USPS and FedEx, and also Canada Post. You can also use tools like Veeqo, which is really useful if you're managing a big Etsy store
Shipping options on eBay provide several choices such as shipping profiles, calculated shipping, and from local to global. They also provide more tools and learning resources like shipping cost calculator, freight shipping, online branded shipping supplies, and understand return shipping.
Pros and Cons of selling on Etsy
Pros
Massive but targeted. As of 2019, Etsy has close to 40 million active users. Although not quite as huge as eBay, the traffic is very targeted and select enough for niche products to succeed.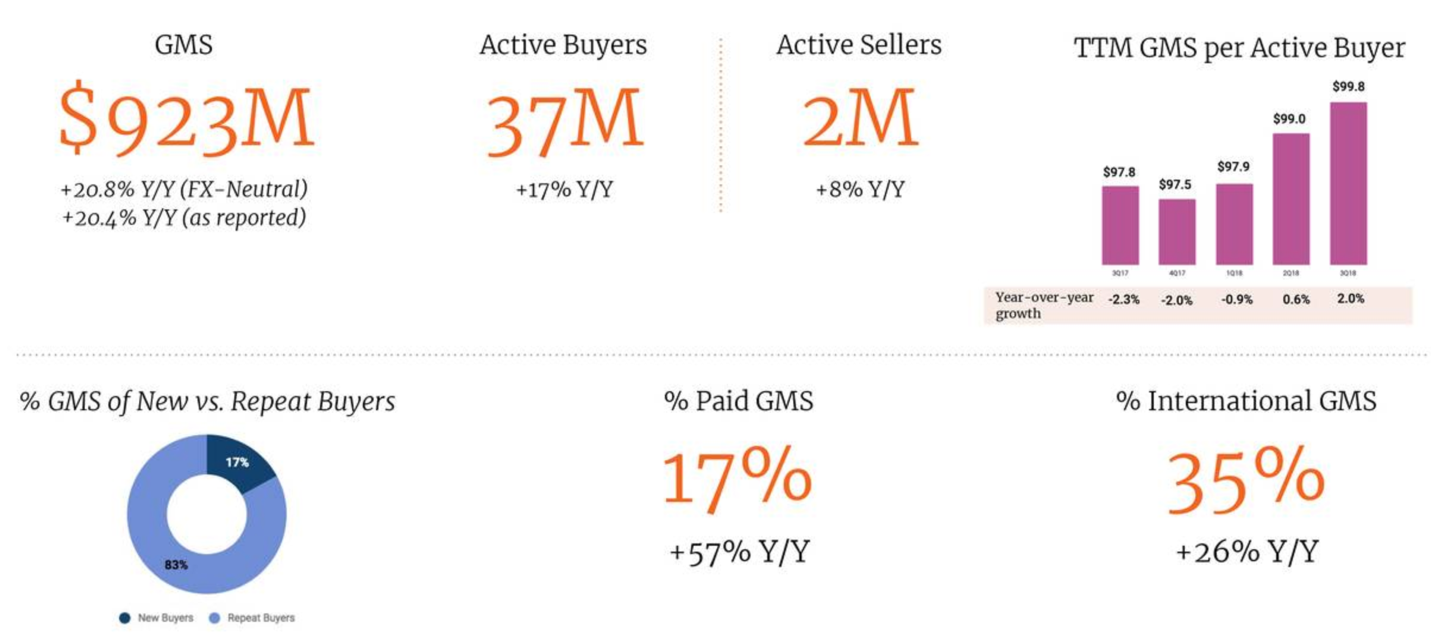 Cleaner e-commerce design. Website design plays a big role in conversions. Etsy as a website is up there in terms of quality.
Margins can be higher. Banking on the uniqueness of your products and the creativity behind their designs, you can definitely list prices a bit higher on Etsy.
Get help from the community. The Etsy community is helpful and is composed of people who genuinely care about the platform and its users.
Etsy Customer Service. The Etsy Help site is quite large while customer services is always just a click away.
Cons
Not many seller tools. At least not as many as that of eBay. But Etsy has tons of learning resources anyway like the Seller Handbook as well as a host of informative articles from their website and from community content.
Fees, fees, fees. Same with eBay and other marketplaces, there are fees left and right, and even beyond, e.g. payment gateways like PayPal and credit cards.
A bit harder to setup. Takes more time to list products but not much of a difference.
Brand awareness takes time. Unless you take active steps to market your brand and store for top of funnel awareness, it'll take time for people to know you exist.
Risk imitation. Creatives and artists are aware that their work is subject to copying. More so when you list high quality, unique items on Etsy. Copycats know where to look and Etsy is one of those places.
Not much page customization options. The whole site itself and the product pages are great, specifically designed for e-commerce conversion. But most pages look the same and the only thing that might differentiate your product from the competition would be the pictures you post.
Pros and Cons of selling on eBay
Pros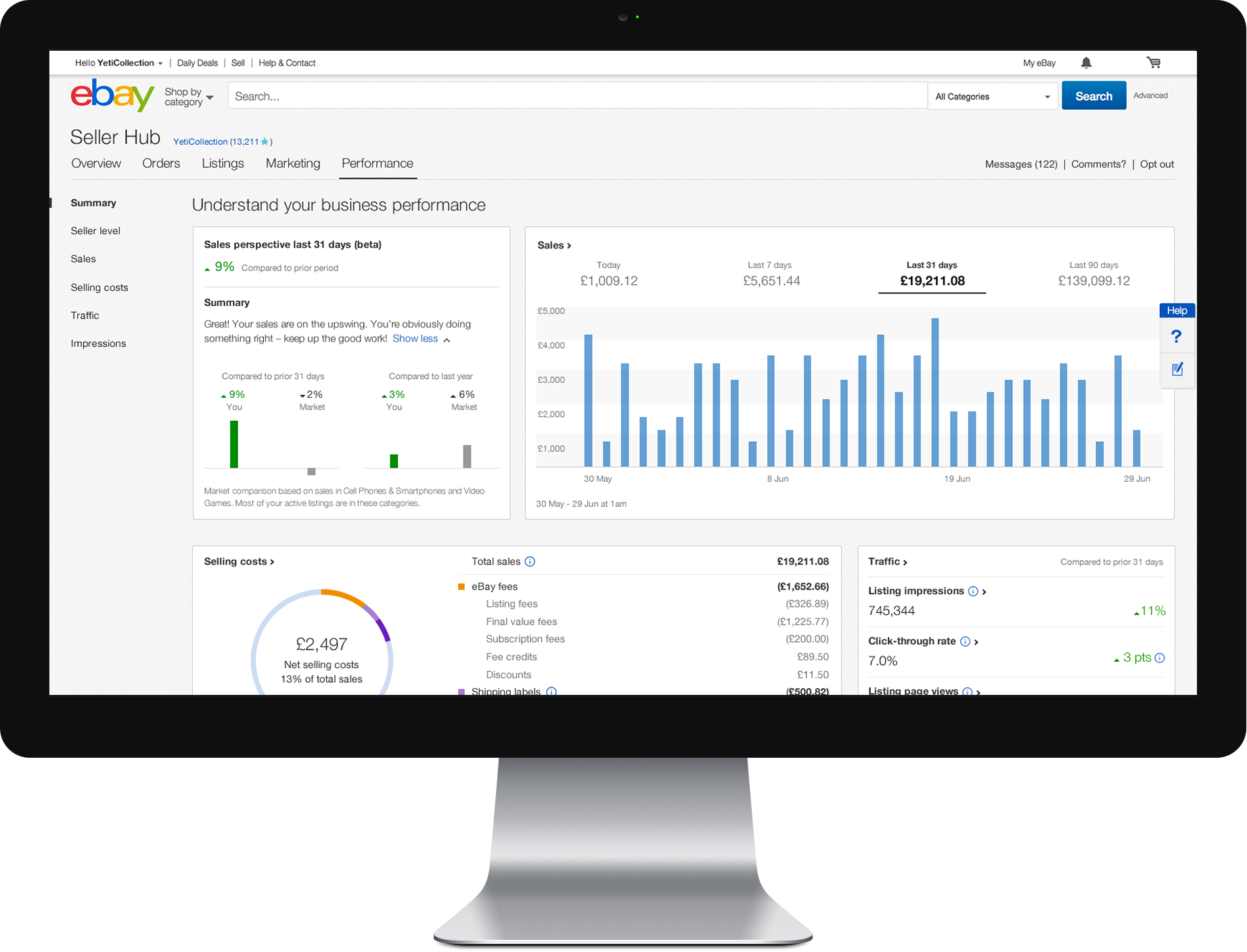 Lots of seller tools. Among others, you have the Seller Hub, Selling Templates, the eBay App, Sales Reports, and the eBay File Exchange making the platform extra conducive to seller and store growth.
Simple and easy product listings. eBay has designed the process of listing products in a way that is intuitive even to regular, non-technical folk. Need to duplicate listings? Do this with just a few quick clicks.
Huge traffic, massive market base. As of 2019, there are 190 million users on eBay. This gets your products potentially seen by an immense number of customers. Beyond purchasing, imagine even just getting shared by these users.
Product popularity. The more activity you have when it comes to sales, bids, seller reviews, etc, the more popular your store becomes.
Sell to the world. eBay has had many separate sites around the globe and these sites are interconnected. This means your products, without much effort, get seen by prospective buyers the world over.
Cons
Fees everywhere. Same with Etsy and practically any marketplace online, there are fees to contend with. Although this might be a fact of e-commerce life these can add up so earning a substantial cashflow is paramount to success over the short term.
Some untrustworthy and fraudulent buyers. eBay can be quite unsafe for sellers so be sure to follow some eBay safeguards with your listings and whole operations on the platform.
Dispute resolutions favor buyers over sellers. Most of the time, you'll realize that eBay is built more for buyers rather than sellers. This, of course, does not become an issue as long as you're well aware of what you need to do for safer e-commerce operations on eBay.
Which one is best for your business?
So now you're aware of some Etsy vs eBay points from reading our guide above. If you're asking what the better platform is for your business? Pretty straightforward at this point.
If you're an artist, creative, craftsman able to manufacture products for very specific niches and targeting segments then Etsy is for you.
If you're an intermediate to advanced seller with a product line that covers a host of categories and you're able to work with tight margins then eBay is for you.
Thinking about both sides of the coin, i.e. expanding e-commerce versus fresh e-commerce, it'll depend on the products you sell and your ideal target audience.
Now if you still have both Etsy and eBay as options after considering product type and targets, and 1) scaling is the plan, 2) budget permits, and 3) inventory is big and easily replenished, you may really choose to go with both.
We hope this article provided valuable information for you. If you have any questions, please feel free to get in touch.