30+ of the Best Dropshipping Products to Sell in 2020
Tell me if this sounds familiar…
You're itching to start a profitable dropshipping business. But finding a winning product?
Ahem...let's just say it's proving more troublesome than you first imagined.
Questions like: "Maybe this one's too saturated?", "Maybe that one could be more profitable?" "Does this one have the potential to scale?" won't stop rattling around your brain.
But don't worry - you're not alone.
Because with nearly endless dropshipping products to choose from, it's super common to work yourself into a state of paralysis by analysis (yes, even for pro dropshippers).
That's why today we're revealing 30+ of the best dropshipping products to sell in 2020. We've done the leg-work behind the scenes, so you can spend less time deciding and more time taking action.
But before we get to that, let's run through how to select high-potential products so that you'll always be able to dig-up winners on your own...
How to Choose Winning Products
If you're pressed for time, feel free to skip ahead to the list of hot products. But I'd highly recommend you take the time to learn how to choose profitable dropshipping products yourself.
Why?
Because as the old proverb goes 'give a man a fish, and you feed him for a day. But teach a man how to fish, and you feed him for life.'
In other words, there's a high chance the products listed below will make you money, but there'll also likely come a time when they're no longer profitable.
So, honing your ability to unearth great dropshipping products makes you a more self-sufficient entrepreneur and future proofs your business.
And the best part?
It's not that difficult when you use the proven methods below.
Step #1 Know the 4 Criteria for Winning Products
Most winning products share similar characteristics. Always aim for your chosen products to have at least 3 out of 4 of the following characteristics to boost your chances of success:
An example of a product that satisfies all 4 criteria
The product solves a problem: most great businesses started out by trying to fix people's problems. And drop shipping is no different. Of course, there are exceptions to this rule (fidget spinners, anyone?). But in general, products that make your customers' lives easier or solve a particular pain point have a higher chance of success.
You can't find it in regular stores: Dropshipping is competitive enough without doing battle with retail giants like Walmart and Target. If people can simply pick up your product at their local store, they'll be less likely to buy from a website they're not familiar with. You need to find unique products people can't find anywhere else.
It has good mark-up potential: In the good old days of dropshipping when advertising was dirt cheap, you could sell pretty much anything and turn a profit. Sadly, those days are gone. And with ad costs on the up, it's essential that you allow yourself enough wiggle room to maintain profitability. As a general rule, look for products that you can sell for at least 2-3X times the unit cost.
It has impulse buy-ability: Unless you're interested in getting into high-ticket dropshipping, you want customers to see your product and quickly make a purchasing decision. Typically impulse buys are priced under $50 and have that wow factor that makes people say 'omg I need that now!'
Using the four criteria above, let's knuckle down and get to work. Coming up are three great ways to look for products - you can use just one, or for supercharged results, combine all 3 to find products like a pro dropshipper.
Step #2 Check Out Bestseller Lists
Bestseller lists show you what kinds of products customers are digging right now. Study the products on the following sites to quickly gain inspiration for your own product ideas:
#3 Run A Facebook Search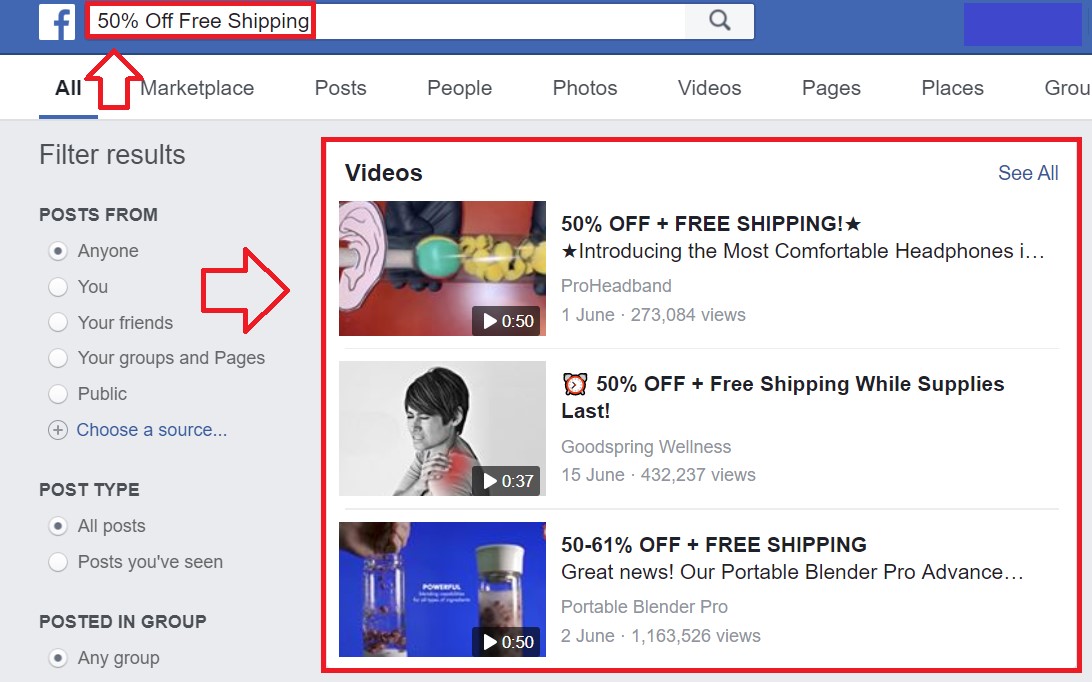 Many successful dropshippers advertise their products via Facebook ads. The good news is that you can find their ads (and therefore their products) by running a few simple searches using the Facebook search box.
Type in combinations of terms that dropshippers might be likely to use in their ad copy such as:
30/40/50% Off
Free Shipping
Shop Now
Tag someone who needs this
Limited time only
Then filter the results by videos from the last six months. Any videos with over 100k views and lots of engagement (preferably from high-income nations such as USA, Australia, UK etc.) is likely to be a hot product worth testing yourself.
Step #4 Leverage the Power of a Product Research Tool
Product research tools come in many different shapes and sizes, but using a powerful one will step-up your ability to laser-in on awesome products. Our software, Salesource, uses machine learning to analyse enormous swathes of data and pull out the trends and products that can make you money.
The best product research tools will allow you to do things like:
Test products from a daily feed of high-potential items
Analyse competitors & top dropshippers to see what they're selling
Compare product suppliers to get the lowest price/best service
Source product videos & product descriptions
Provide you with sales data & other advanced analytics
Basically, a solid product research tool takes the guesswork out of the process. With the right tool, you'll be able to expedite the research process and spend more time working on driving sales and conversions for your online store. Profit-city here we come!
The 30+ Best Dropshipping Products to Sell in 2020
From skin scrubbers to phone chargers here's our list of the 35 best dropshipping products to sell in 2020. We'll cover why we think each has got serious potential, back up our selections with data and throw in a few marketing tips for good measure.
We identified these products using SaleSource data, google trends, Facebook search, amazon bestsellers as well as our own dropshipping experience. For this article, we've categorized them by niches that are going to be popping in 2020 too.
So, without further ado, let's dive in!
Eco-Friendly Products
Green consumerism has been sprouting (excuse the pun) in recent years thanks to growing environmental concerns. More and more customers are becoming keenly aware of their consumption habits and the effect that they're having on the planet.
This niche has buckets of potential - think about products that focus on reducing waste or inflict a smaller environmental cost on the planet. Here are our top picks:
Beeswax Food Wraps
Lots of people are getting sick of using so much plastic in the kitchen. These reusable beeswax wraps allow consumers to reduce the amount of waste they produce on a daily basis.
They're perfect for covering up leftovers before putting them in the fridge, used to protect sandwiches on the go or any other place where cling film would be traditionally used.
They're super aesthetic which makes marketing them via social media much easier. The key to selling these is to create an eco brand around them - use passionate influencers to build a thriving Facebook or Instagram community who all share the vision of a waste-free world.
As you can see from the Google Trends data, this product has been growing steadily in popularity for some time now. They briefly fell out of fashion during the height of the pandemic (as did many products) but they've been making a sharp return to the fore ever since.
Reusable Straws
In just the U.S. alone, it's estimated that a whopping 500 million straws are used every single day. Sadly, most of these end up in landfill or worse, polluting the oceans, rivers and lakes around us.
More consumers are becoming wise to the wasteful nature of traditional plastic straws. Reusable straws offer the perfect solution for people looking to cut down the impact they have on the environment.
There are two ways you could go with these - target restaurant, bar and hotel owners and set up a B2B dropshipping business or go direct to consumers by targeting people interested in environmental causes.
Silicone Food Storage
As you can see, plastic is public enemy number one in 2020. These reusable silicone bags are exactly the kind of product that eco-conscious consumers are looking to buy.
The unit cost is super cheap, which means you'll have more money to spend on marketing. Lots of suppliers are shipping these from the USA too. Not only will your customers get their packages faster, but you'll also be cutting down on the amount of Co2 emitted during shipping.
Eco Shopping Bags
If you've been to the supermarket in recent weeks, you've probably already seen customers using these string shopping bags.
As governments around the world start to impose heavier levies on plastic shopping bags, consumers are going to want a reusable and more economical solution. These mesh bags don't only look great, but they're incredibly functional too.
They'd make an excellent upsell to any of the aforementioned products, or you could just straight upsell them on their own.
If you do, a strong value-driven brand is key. You want to create a movement around your product - maybe you donate 20% of all profits to sustainability projects or perhaps you host monthly beach clean-ups - whatever it is you need to align yourself with the ideals of your customers.
Health and Beauty
With a global valuation of more than $530 billion, health and beauty is an evergreen niche that has always lent itself well to dropshipping. Here's what products you should dropship in 2020:
Posture Corrector
Posture correctors have been all the rage for some time in the dropshipping sphere. Many people will say they're over-saturated and there's no point in trying to sell them.
But a high level of competition isn't always a bad thing - it just means there's a huge demand for a given product.
And so, all you have to do is find a way to differentiate yourself from everybody else who's just copying what others have done.
For example, you could target high-income countries where English is not the primary language (e.g. Norway, Sweden, Denmark) or build a brand around a specific niche (e.g. 'The posture corrector for golfers')
Whatever way you decide to distinguish yourself from the competition, the Google Trends data shows that the demand for posture correctors isn't going away anytime soon.
Ultrasonic Skin Scrubber
Having clear skin and a glowing complexion is the goal of many women (and men) since time immemorial.
The latest trend in the realm of facial skincare is these ultrasonic skin scrubbers. Coming in at $18 these are the priciest items on the list so far. However, using SaleSource we were able to find multiple stores selling these for between $35-45, which should leave enough room to make a tidy profit.
Shower Head Wrap
Next on the list of the best dropshipping products to sell in 2020 is something that any readers with long hair will appreciate: The shower head wrap.
With this product, there's no more mucking about with trying towels around your head when you're drying your hair. Instead, you can simply pop the wrap on just like a hat and you've got a snug fit they'll keep all your hair in place.
Super simple. Super low-tech. Super effective.
The showerhead wrap is unique because you don't really see them in stores and yet they solve an extremely common problem that is faced by anyone with long hair on a daily basis.
Alright, next up on our list of the best unique dropshipping products to sell in 2020 we've got something that's tailored towards shoppers with long hair.
Ergonomic Neck Pillow
30% of US adults suffer from neck pain at some point each year. What's more, 50% of sufferers will continue to battle some level of chronic neck pain into the future.
A large part of the problem? Poor sleeping posture.
That's why more and more people are becoming interested in the benefits of sleeping with an ergonomic pillow. Memory foam pillows adapt to the shape of your neck and provide proper support in areas where regular pillows don't. The result is a better night's sleep and lower levels of pain throughout the day.
For this product, definitely test scheduling your ads to morning and evening. That way you can catch people right as they wake up/dose off and have their neck pain at the front of their mind.
Head Shaver
Shaving your head used to be the reserve of military personnel and gang members. However, hairstyles have changed in recent years and many men are embracing the buzz cut look (mainly thanks to The Rock, Michael Jordan, Bruce Willis & others)
Add to that the fact that lockdowns introduced many people to home-haircutting and you can see why there's currently a huge demand for grooming products such as this head shaver.
A great way to market this product would be to create a community for men that empowers them to embrace hair loss, rather than fight it. Perhaps an Instagram page or Youtube channel where you share stories, tips and tricks about how to deal with male pattern baldness. Check out BeardBrand for inspiration.
Outdoor & Camping Gear
Functional camping equipment is a really profitable market to jump into. And the best part? It just keeps growing year after year. While it's a somewhat seasonal niche, it's showing a massive upsurge in demand this year in particular (a trend that's likely to continue given recent events). Here's what to sell:
Camping Cookware
One of the best things about going camping is cooking out under the stars. And since camping is becoming a more popular holiday (thanks to Coronavirus) lots of consumers are going to be looking to pick up a decent cooking kit to keep them fed while out in the bush.
Since it is possible to find these products down in your local outdoor shop, you need to give potential customers another reason to buy from you. So, offer them a downloadable PDF with campfire recipes that can be made using your cookware.
Another great way to market camping cookware would be to make tasty-style videos and put them on Youtube, except instead of regular recipes, you'd do ones that are specific to camping. You could run these as paid ads too to draw traffic into the top of your sales funnel.
Camping Hammocks
When your customer's belly is full from your awesome recipes, they'll need somewhere to turn in for the night.
The search volume for hammocks have been surging on Google trends lately, so it's the perfect time to jump in and start selling them.
These hammocks can be sold to various groups of people - not just those interested in camping. Hunters, fishermen, scouts, doomsday-preppers and survivalists all make excellent audiences for this particular product.
Camping Chairs
Camping chairs have been trending like crazy lately - just check out the Google trends graph below:
We're not exactly sure why - some of the search volume is likely to do with the overall jump in demand for camping in general - but some is probably also explained by the fact that people are spending more time in gardens and parks as opposed to cafes and restaurants when they're socializing.
Whatever the reason, at the time of writing camping chairs, are at the peak of their popularity, not just for the last 12 months, but for the past 5 years too! As a dropshipper, that means it's high time to jump in and cash out!
Again, don't limit your audience to campers here. Instead, think about all the groups of people who have use for a camping chair - from festival-goers to fishermen to hillwalkers.
Fishing Rods
Many dropshippers have made serious bank off the fishing niche in the past. But just like most outdoor pursuits, the demand for fishing equipment has shot through the roof over the past few months - and it's not just summer-related.
As you can see above, the SaleSource algorithm has scored these rods all above 70/100 which is usually a great sign for a product that has a high chance of success. What's more, further analysis showed that there are several stores making a lot of money selling these exact rods.
What's awesome about dropshipping fishing rods from China is that you can offer your customers a price significantly lower than they'd find a similar product in their local tackle shop.
That's because you don't have to rent a premises or fork out to have staff process the sale. Instead, you can offer hobbyists incredible value when it comes to buying their fishing equipment.
Tech Supplies and Accessories
Technology accessories is another niche that has always been good to dropshippers. The key to this niche is to find products that quickly solve a customer problem and don't cost more than a couple of dollars. Here's what to sell:
Neck Phone Holder
Holding your smartphone when watching Netflix or video calling your friends can be a drag - especially if you're doing it for a couple of hours each day.
Hence why the demand for fixed phone holders has increased significantly over the last few months. And one of the hottest selling holders is this neck anchored phone holder.
It's easy to see why - it frees up your hands for chores or eating without having to sacrifice using your smartphone.
What's great is that it's got all the characteristics of a winning product:
It solves a problem
It's not found in regular stores
It's got good mark up potential (Try retailing for $19.99)
It's got impulse-buy-ability (most people will be holding their phone when they see the ad!)
Wireless Phone Chargers
Nowadays, more and more phones are coming with wireless charging functionality. But there's a problem - most of the official manufacturer charging pads are painfully expensive for what they are.
And if you've just accidentally broken yours, forking out a chunk of your hard-earned cash for a new one is probably something you'd rather not do.
But what if you were hit with an ad for a wireless charger that was half the price of the official manufacturers? You'd probably be tempted, right?
Well, so would thousands of other consumers who've accidentally stomped on their fragile charger! As you can see below, wireless chargers have been increasing in popularity every year since they were invented.
They get a little boost around Christmas time as they make an excellent gift to go along with a new phone - but overall the demand is increasing at a solid rate year after year.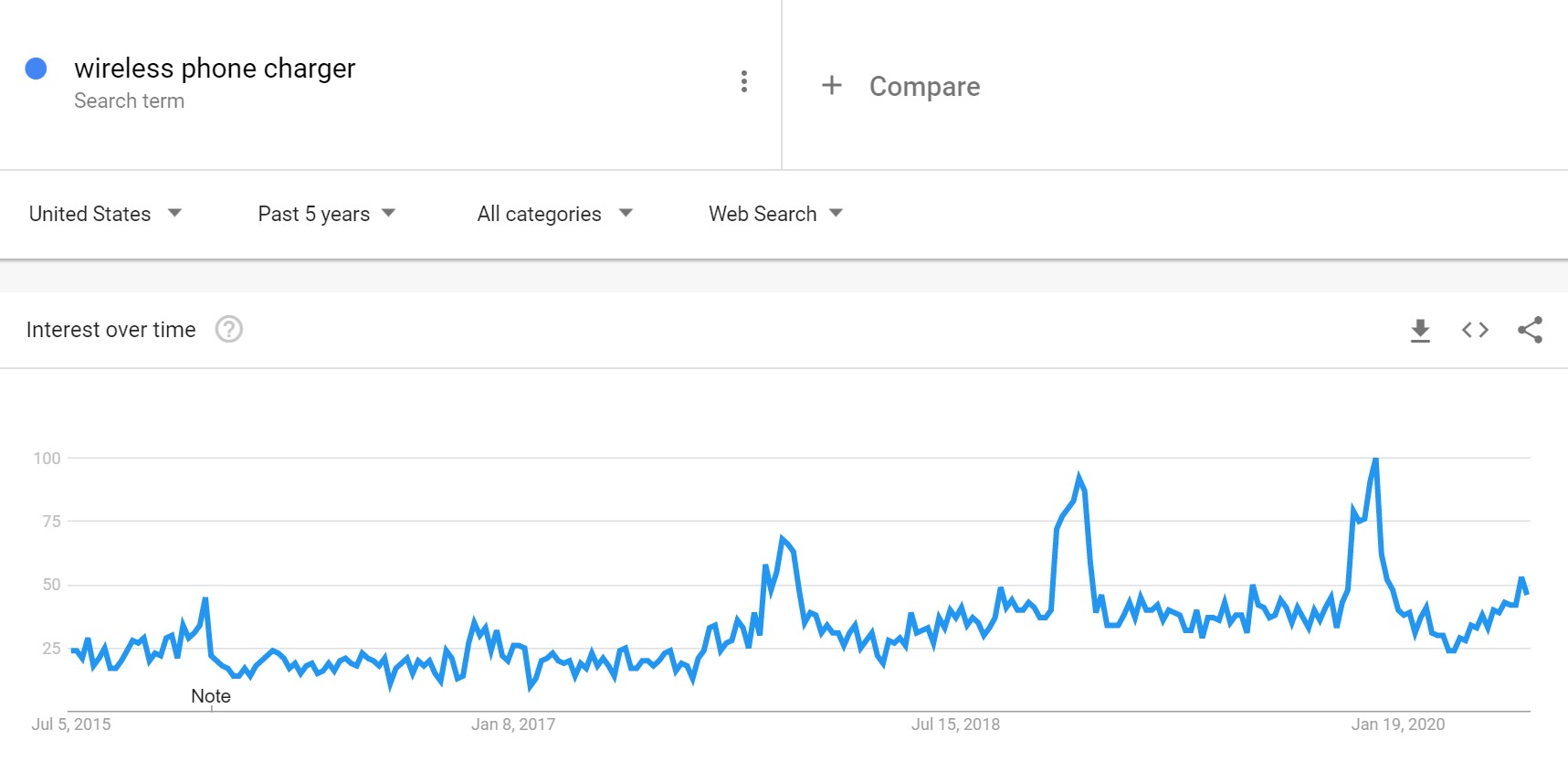 Smart Plugs
Smart plugs are the most basic element of any smart home and allow users to automate a variety of tasks via wifi.
Want the coffee pot to turn on 5 minutes before you wake up? Done! Want to turn on the slow cooker while you're at work? Simple! Want to fool burglars into thinking you're inside while on vacation? Easy!
The possibilities are crazy and that's why more and more people are researching ways to turn their space into a smart equipped Tony Stark-esque lair of automated technology. Especially since we've all been spending more time in our homes over the last few months.
Just look at the increase in demand for smart plugs over the last 90 days:
Smart Watch Straps
Smartwatches and fitness trackers have exploded in popularity over the last couple of years. But increasingly consumers are looking for ways to personalize their smartwatches by swapping out the stock straps for more sophisticated versions.
The mark-up potential on this type of product is absolutely huge - just look at the prices listed in SaleSource above. Personally, I've seen the Milanese loop strap (2nd from the left) retail for $29.99 - nearly a 10x markup!
As long as smartwatches are popular, there'll always be customers who are looking for products like these.
iPhone 11 Cases
Just like smartwatch straps, iPhone cases make an excellent dropshipping product because they're an accessory to a very expensive product.
Why is that a good thing? Well because when people drop a big wad of cash on a new iPhone, they want to protect it while also adding a dose of their own style to the manufacturer's generic design. That's where phone cases come in.
The data shows that the demand for iPhone 11 cases has been on the up over the last three months. Whatever case you decide to sell, make sure it's something unique - standard ones won't cut it here.
Remember the best dropshipping products can't be found in a normal store - so think about choosing a specific sub-niche - like dog lovers, cat lovers, wine lovers etc. and market your cases to them.
Pro Tip: When creating your Facebook Ads, you can select to target iPhone users only by going to 'Behaviors > Mobile Device User > All Mobile Devices by Brand > Apple'. You can then further narrow your audience down by the model they're using by choosing 'Facebook access (mobile): iPhone 11'
Pet Products
The pet care market is booming and is projected to exceed $269.9bn by 2025 - up from $190bn in 2018. What's more, Cat and dog owners are absolutely crazy about their furry friends. As a dropshipper that's great because more passion means more motivation to buy - especially if the product is eye-catching. Here's what to sell:
Slow Feeder Bowls
If you have a dog, you know that their self-control goes out the window when it comes to dinner time. As such, many dogs get so excited about chowing down, that they end up choking themselves while wolfing down the contents of their bowl.
Enter the slow-feeder. These bowls are specifically designed to make it harder for dogs to simply bury their snout and chomp as fast as possible. Dogs have to work harder to dislodge the food and the bowl's design makes it impossible for dogs to devour whole mouthfuls in one go.
This results in less risk of the dog choking on their food and importantly, a more relaxing feeding time for the owner. Again we have a very simple product that addresses a very common problem - plus it's easy to ship, attractive, cheap and growing rapidly in popularity.
Pet Beds
These pet beds are purrfect (excuse the pun) for owners who want to give their furry companions a nice place to curl up and dream about chasing the postman.
They're super aesthetic which means they'd do well being advertised on Instagram. For marketing, look into working with pet meme pages and influencers to promote offers related to your bed.
But don't just go for the hard sale (everyone is doing that). Instead, have your influencers promote blog posts from your Shopify store around the importance of having a cosy nest for your pet and how it can affect their mental and physical health.
Then put your product at the centre of that content, positioning it as the solution that'll give their pet the respite they need.
Cat Drinking Fountain
Despite being good for them, many cats don't like drinking water. Unfortunately, this genetic quirk causes many of our feline friends to live in a state of semi-dehydration. This results in a whole host of problems such as kidney stones, fatigue, digestive issues and so on.
What's more, due to their short-sightedness, cats have trouble seeing static water in a regular bowl. Naturally, they tend to gravitate towards moving sources of water (like their ancestors would have thousands of years ago).
That's where these nifty drinking fountains come in handy. More and more owners are discovering that their cats are much more ready to drink from these gadgets rather than from a traditional bowl.
The result is a healthier and happier cat - something most owners would be over the moon to achieve with such a simple solution.
Just look at the trend data below to see how this product has really started to take since mid-February 2020.
Pet Nail Clippers
Overgrown pet nails are no fun. They can cause pets unnecessary pain, bleeding and infection and can even make them want to avoid their previously beloved walkies.
The solution is often to bring your pet to the vet. However, without insurance, a trip to the vet can be pretty expensive - especially if it's just for a run of the mill doggy-pedicure.
There's no reason why you can't regularly clip your pets nails at home. These rechargeable nail clippers are the perfect solution to keep your dog's nails in check. Plus, because they are a grinding action, as opposed to a clipping action - they cause your pet less discomfort during the trimming process.
What's awesome for you is that the grinding pads need to be regularly replaced. That means you can turn customers into repeat buyers through a subscription package that'll deliver pads to their home at a certain interval.
Now, instead of a one-off sale for $40, you could have hypothetically bumped your customer lifetime value up to $150!
Apparel Items
Selling apparel can be tough for dropshipping, but not if you know how to spot the right products. Selling general clothing items isn't recommended. Why? Because firstly, most people prefer to buy from brands they know, and secondly sizing and returns can cause you some serious headaches. But what kind of apparel items should you sell? Check these out:
Blue light blocking glasses
We're starting to discover that blue light emitted from the screens we're staring at each day can cause a number of problems for our health.
Primarily, blue light hampers the quality of our shut-eye by disrupting the natural circadian rhythm that governs our sleep/wake cycle.
It can also cause eye discomfort and there's even evidence linking it to an increased risk of age-related macular degeneration.
Blue light-blocking glasses have been around for a couple of years, but they've only been super popular for about the last 12 months. And the demand is still growing:
Don't be afraid to take a different angle with this product. As you can see above, I've chosen a pair of glasses that are specifically designed for kids - many concerned parents will happily spend a couple of dollars to help their kids get a better night sleep - especially if they're using phones or tablets in the evening.
You could also market your glasses specifically to gamers or graphic designers or anyone else who spends a long period of time staring at screens.
Novelty Socks
Socks? A hot dropshipping product? You must be joking with me?
Okay, Okay, I'll admit this isn't the most groundbreaking or novel product but just hear me out on this one first.
Socks have always been a killer product to sell, and just because it's 2020 that doesn't make them redundant. Especially if you choose socks that can't be found in any regular shops, but that appeal to a specific audience.
Think about it -the above example would be classical art lovers. You can't just pop down to Macy's and pick up a pair of socks with the Mona Lisa on them.
These make the perfect gift product. Your customer probably won't be buying them for themselves, but for somebody in their life who's into classical art - so make sure your marketing reflects that.
You don't have to choose classical art, you can pick anything you like. But the principle remains the same: you must choose a niche that people are passionate about that doesn't have a regular supply of products in normal stores.
Chunky Sneakers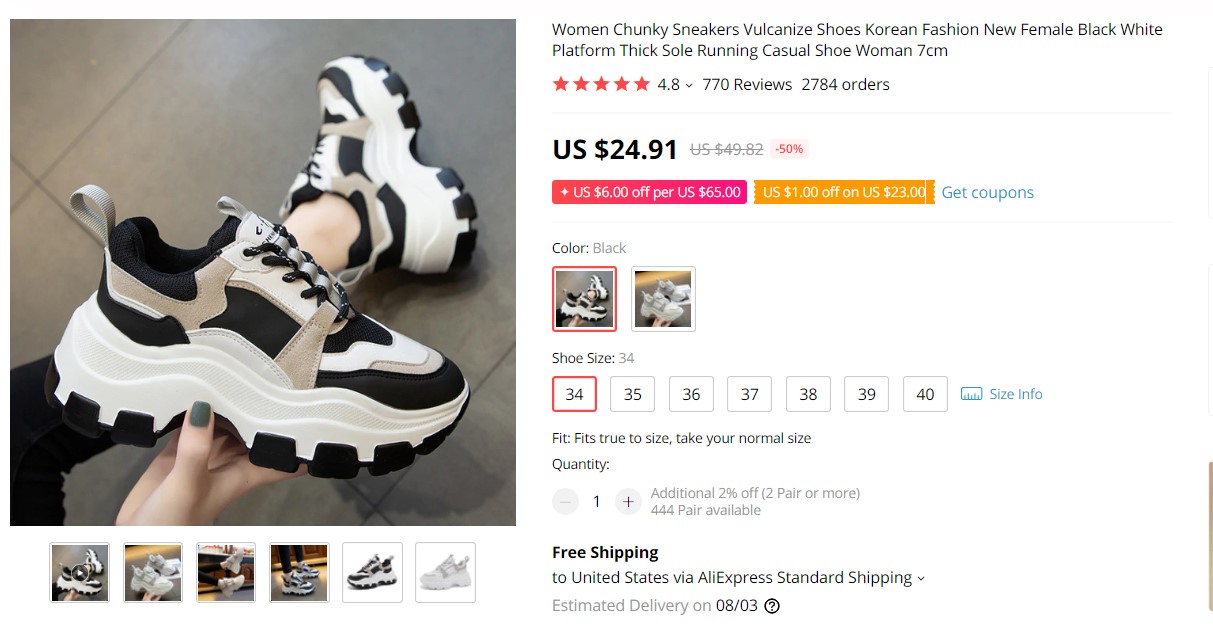 Unless you've been living under a rock, you've probably seen people rocking 90's inspired chunky sneakers over the last year or so.
Well, guess what? The trend isn't going anywhere soon. In fact, the data shows that it's only growing by the week.
See, the problem with many big brand sneakers is that they're super expensive. There are hardly any options for people who don't want to spend $90+ on a new pair of sneakers. That's where you can come in with a pair of quality sneakers for around $50.
Creating an epic Shopify store is key here - a slapdash run of the mill storefront won't cut it. Order the shoes yourself and take a couple of high-quality videos and images for your marketing collateral. Build your own niche designer brand around a selection of chunky sneakers - make your buyers feel like they've stumbled upon a hidden gem in the footwear line-up.
Then they'll be happy to hand over their cash for a pair of your uber-cool sneakers and tell their friends where they got them too.
Home and Kitchen
Home and kitchen tools never seem to stop selling. And in light of the recent global pandemic, more people are spending greater amounts of time at home doing things like cooking, baking and cleaning. Yup, that means an already booming niche is set to become a lot more profitable. Here's what to sell:
Pastry Bags
With the extra time on people's hands thanks to lockdowns many people turned to baking to occupy their time and create sweet treats for their families.
The ensuing upshot in demand for baking accessories has been enormous and many dropshippers are jumping on the trend and taking home tidy profits for their efforts.
These pastry bags are booming right now - the selection of nozzles allow people to custom design cakes adding peoples names for example, or drawings of things that give the cakes that extra oomph factor.
Their eye-catching will do well on social media and pricing them at around $15 ensures they'll be in the sweet spot for impulse buys.
Unique Laundry Baskets
When you think of trending products, it's fair to say that laundry baskets probably wouldn't be the first product that jumps to mind - but the data says otherwise.
Over the past few years, the demand for laundry baskets has been steadily increasing. Sure, it's not hard to find a laundry basket in a local store, but finding a stylish one is another story.
The minimalist-bohemian interior design trend has been clogging up in Instagram and Pinterest feeds too - so it makes sense to marry the two trends to sell home products that people want.
Essential Oil Diffuser
The pace of life is increasing at breakneck speed. So many consumers are dealing with frazzled nerves and gripping anxiety.
Aromatherapy has been shown to reduce stress and promote a greater sense of calm amid the rush and busyness of everyday life.
Hence why there's been growing year-on-year demand for essential oil diffusers. Just like the pet nail clippers, you should think about pushing customers onto a subscription plan for the oils that are used in your diffuser.
Maybe think about designing your oil selection to match the shifting seasons of the year - so that customers get a unique and appropriate oil pack for winter, spring, summer and autumn.
Fairy Lights
Fairy lights are the perfect way to instantly make your bedroom, living room, kitchen or outdoor area instantly more cosy (and Instagrammable)
There's been growing interest in them since 2015, usually with a big surge around Christmas time. However, 2020 is the first year where they've seen unprecedented growth in demand throughout the first six months of the year.
And whenever there's a surge in demand, traditional retailers have trouble keeping up supply - that's where eCom entrepreneurs can step in and fill the gap.
Home Security Cameras
Many homeowners are becoming increasingly interested in keeping their property safe. Central to keeping your home protected is having a surveillance system.
These cameras offer a comparatively cheap and simple system that makes sure you're always able to keep an eye on your home, even when you're not there.
Occasionally dropshipping electronics from AliExpress can be hit and miss, however with 484 reviews and a score of 4.8/5 you don't need to be concerned that these cameras are of inferior quality or don't function as they're supposed to.
Their clean design and professional-looking images would make it easy to create a one product store around this product.
When marketing them, create bundles of 3-4 cameras and offer a bulk discount. While this is venturing into the realm of high-ticket dropshipping, using bundles let your customers buy a complete surveillance system while also pushing up your average order value and total overall profit.
Baby Products
There are over 10,000 babies born each day in the USA alone, and each one has two parents who are willing to spend money on products that will help their newborn get the best start in life. Here are some products that'll be selling like hotcakes in 2020:
Pacifier Fruit Feeder
This product is sure to sell like crazy based purely on its novel appeal. These pacifiers are designed for babies who are navigating the tricky teething period and provide a smooth transition to eating solid foods.
They can be filled with fruit, milk, water or vegetables to give infants nutrients while they're developing their fully-fledged gnashers. Perfect to help stressed parents who are struggling to control crying babies.
Important: With all baby products, you need to ensure that the product your selling doesn't pose any unusual health risks to the end-users. There may be health & safety laws in your jurisdiction that regulate the sale of baby products. As a retailer, it's up to you to familiarize and operate with such regulations.
Baby Hip Seat
Carrying around an infant can cause parents to develop neck and shoulder pain - especially as the baby grows in size. At the same time, no parent wants to give up the pleasure of holding their little one close to them as they're moving about
These baby seats provide a solution to the problem by more effectively distributing the weight across the skeletal frame of the carrier while also keeping them in close contact with their parents.
These hip seats are adjustable and unisex which means you can target both moms and dads in your advertising. With a unit cost of $13 including shipping, you'd have no problem selling these for $35 giving you a nice break-even margin of $21 to work with for advertising.
Baby Feeding Spoon
As any parent will tell you, feeding a young baby can be messy business. But these clever feeding spoon/bottle hybrids make the process just that little bit tidier.
Parents can easily load semi-solid baby food into the squeezy bottle chamber, which can be pressed out under control onto the feeding spoon for ease of consumption with minimal mess.
For any new parents struggling to manage mealtimes with success, this product could be a total game-changer.
By filtering suppliers on SaleSource, I was quickly able to easily see that many sellers are shipping this product from US and European warehouses - which means you and your customers won't have to worry about extended shipping times from China due to COVID-19.
Now Over To You!
There you have it, over 30+ smokin' hot dropshipping products that you can sell to make money online in 2020. We hope that this list has given you the inspiration to start your first dropshipping store or rework your current product line-up.
Now it's your turn - remember that all these product ideas are useless if you don't take action. While theory and planning have great value, nothing will generate revenue for your business like cold hard hustle.
So roll up those sleeves, stick your phone in another room, open Shopify, create your store, add your products, set up your ads and get your online venture up and running ASAP. Because time doesn't wait for anyone.
If you need more resources to support you on your dropshipping journey, check out these articles to get you moving in the right direction: